Cummins & Partners closes Toronto office
A year after the Australian agency opened in Canada, a major client loss has led it to "reassess the market opportunity."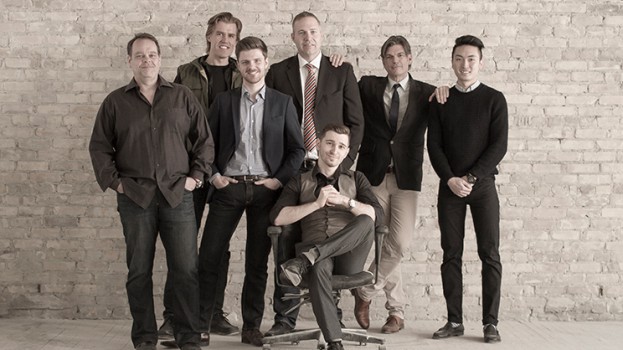 Pictured: The key staff of Cummins & Partners Toronto at its launch last year. 

After roughly a year in the Canadian market, Cummins & Partners closed its Toronto office last week after a major client loss earlier this year.

The decision has no impact on its other offices, which continue to operate as usual.

During its time in Canada, the shop worked with clients including Heidi Klum Intimates, Perrier-Jouët, VDKA6100 and Zenbanx as part of a North American assignment, later winning work with 411.ca, Ceridian, Warner Brothers and Nando's. Zenbanx, an online bank focused on easily holding multiple currencies, was a foundational client for the agency's Canadian office, which led the launch campaign last year.

In January, it lost the Zenbanx business. Cathy MacFarlane, SVP of public relations and government affairs at Zenbanx, says that was a result of the company pulling back its marketing budget in Canada and doing fewer brand awareness campaigns. Instead, it is focusing more on research and analysis of the ethnic consumers that make up its client base and doing more targeted advertising to them. That work is happening mostly in the U.S., where Zenbanx launched in December and McFarlane adds it is also looking to conserve resources by not maintaining brand advertising at the same time that it's determining a new direction for its marketing.

"Although we rapidly restructured following this news, we now think that this [closing the office] is the most prudent decision," Sean Cummins, the agency's founder and global CEO, said of losing Zenbanx, in a press release emailed to strategy. "You simply shouldn't have a start-up agency geared to a start-up client."

Cummins said the agency is reassessing its opportunities in Canada, and will "reboot" the Cummins & Partners brand here when the conditions allow for it. "We had one major pitch in our short time, against 14 of Canada's best agencies. And we won. So I know our culture and model resonates," Cummins said.

The agency opened its doors in Toronto – its second office outside of its native Australia – in April of last year, with Cummins at the helm, splitting his time with the office in New York. At launch, the other partners in the agency's Canadian operation were former Union partner Dave Carey, who served as president, and Andrew Shortt, who was ECD.

In May, the agency acquired boutique social and PR agency Youzus, making its founder Sonya Gill a partner and VP of engagement, while also adding Cheryl Gosling as another partner and VP of client services the same month. Shortt left the agency in August, after which Cam Boyd and Troy McGuinness joined as ECDs in October. In September, it hired former Rain43 VP of design and operations Nelson Oliveira as a new partner and VP of integrated production.

By November, Gill had left the agency, while Boyd and McGuinness returned to former agency MacLaren McCann in February. For his part, Carey says he left Cummins in January and became VP of client engagement at Burlington's OKD Marketing last month.

Despite its rocky excursion into Canada, Cummins & Partners is a name well-respected in the Australian agency world. Sean Cummins first launched an agency called Cummins & Partners in 1997, which was sold to Nitro in 2007 and re-named Cummins Nitro. In 2009, the agency was rebranded as SapientNitro several months after Sapient's acquisition of the Nitro network and the agency's "Best Job In The World" campaign for Tourism Queensland won three Grand Prix at Cannes. By 2011, Cummins had launched a new agency dubbed CumminsRoss, which in 2014 was named Australian Agency of Year by AdNews and opened a New York office. It went to the Cummins & Partners name following the departure of co-founder Jason Ross.