Check it out: Airbnb's hosting with benefits
The site's first digital and print campaign in Canada speaks to the perks of putting up a listing.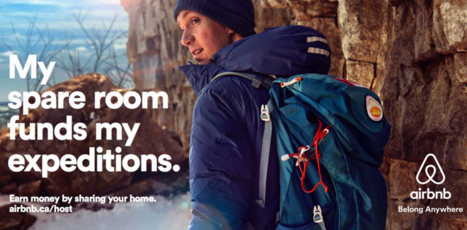 Toronto has become a hot market for Airbnb and it needs more hosts to join its hub of home-sharers.
We know this because we personally received a call from the Silicon Valley company the day after we set up a listing, and they said exactly that, before asking if they could assist in setting it up.
So it makes total sense that Airbnb has decided to go out with a print and digital ad campaign (its first in Canada) that speaks directly to hosts, pointing out the benefits of, well, hosting.
While it's not unique to Canada (the "Open your home. Open your life" campaign is a global one, created internally), the company has created ads that feature real Torontonians who are using the site to list their homes so they can put away extra pocket money.
For example, there's Jeff. He uses Airbnb to fund his outdoor expeditions, with the adventurer purchasing equipment to climb (figurative and literal) mountains, like Kilimanjaro.
And then there's Meg and Mike, who will use the earnings from their rented space to pay for their upcoming wedding (so they'll have more than the gift-giving party guests to thank for the debt-free start to their marriage).
From Stimulant