Ikea brings the kitchen downtown
The brand has created a tasty experience in downtown Toronto as part of its food-first approach.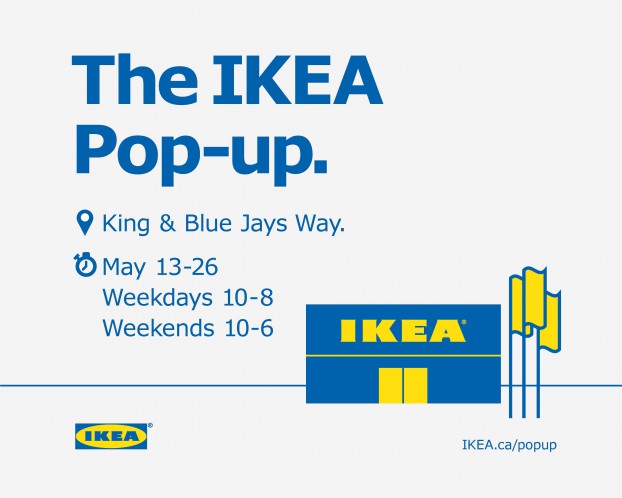 Food brings people together. That's the simple idea behind Ikea's marketing platform, "It Starts with the Food," centred on promoting its kitchen, dining and edible products (including meatballs, of course).
The brand has brought that idea to life in downtown Toronto with a new experiential pop-up, open to the public starting Friday.
The "#StartFooding" pop-up, at King St. and Blue Jays Way, is meant to be a whimsical way of experiencing Ikea's products, while also challenging what Lauren MacDonald, deputy country marketing manager at Ikea, calls common "food conventions," like not throwing impromptu dinner parties because you don't have the right equipment.
The experience is divided into rooms, reminiscent of Ikea's showrooms. The first room is centred on dessert, playing on the idea that a meal can begin with sweets. Throughout the pop-up, the brand is featuring its kitchen, dining and food products and is using RFID technology to make it shoppable. Consumers can walk through the experience with an RFID-enabled spoon that they can use to tap on products and add them to their shopping lists. It also includes a VR experience, using Google Cardboard, which pop-up goers can use to view four different Ikea kitchen options.
Ikea is driving to the activation with various OOH ads, as well as on-the-street chalk that mimics its in-store arrows, which guide shoppers around its showrooms. It's also using food as a draw, sampling its iconic meatballs (and veggie option) at carts around the city.
Outside of downtown, it's using in-feed native ads, search, Facebook and Twitter promoted posts, a dedicated "#StartFooding" landing page and its e-newsletter to promote the campaign.
The brand's mass advertising also reflects the brand's idea of food being a uniting force. Late last year, it launched another of its spots featuring "Nonna," a crotchety but loveable Italian grandmother who's Ikea kitchen is her domain.
Ikea worked with SDI Marketing on the creative development for the pop-up and overall event management, Leo Burnett on creative development and external communications management, Jungle Media on media strategy and planning and Citizen Relations on PR support.