AOY entry deadline extended
You have a few more weeks to submit your intent to enter our agency competitions.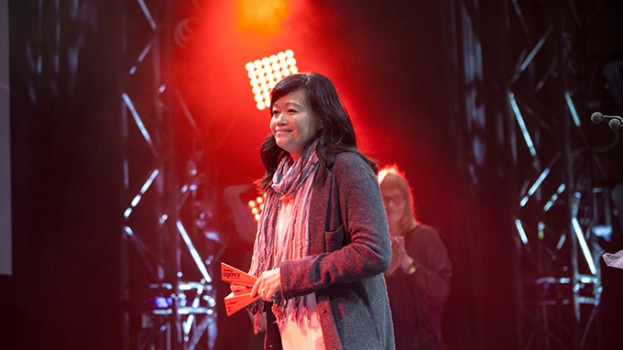 Leo Burnett's Judy John accepts Agency of the Year Gold in 2015.
It's scramble time for those who haven't yet submitted their cases for strategy's 2016 Agency of the Year competitions, but we've decided to cut you some slack.
The first phase of the submission process will now run until June 15, with the second phase — where full case studies are submitted — following in July.
For now, we only need the names of the five (Agency of the Year) and/or three (Media, Digital or PR Agency of the Year) campaigns you plan to enter.
Each one must include the (1) name of the client, (2) name of campaign, and (3) the dates when it was in market. You can send your list to Mark Burgess at mburgess@brunico.com.
The work must have appeared for the first time during the 12-month period from May 2015 to May 2016. The entries must be campaigns for five/three different brands, they cannot include self-promotional work and they must be Canadian (if it's a global campaign created here, it must have appeared in this market).
Strategy will enforce a no double-dipping rule again this year, requiring agencies that would like to be in the running for Agency of the Year and Digital Agency of the Year to submit unique campaigns for each competition. Contenders will not be allowed to submit a case study for a single campaign in both the Agency and Digital contests.
The entry fee is $500, payable when the cases are uploaded (this is a cost per agency for each award category, not per case. So if an agency is entering both AOY and DAOY, the total cost will be $1,000).
Strategy will follow up with details on uploading cases, which will take place in mid-July. In the meantime, if you're looking to start preparing your submissions, here are some guidelines:
Each of the cases must be accompanied by a summary outlining the strategic approach and the thinking behind the execution. The summaries should be approximately 500 to 750 words long, and include the challenge, the insight, the plan, the results, the campaign's timing and any supplementary information.
We will provide more specific details about the submissions in the coming weeks.
To read about last year's winners and learn more about the awards, click here.