Yours, mine and ours
Why traditional brands, from clothing to cars, are playing nice with the sharing economy.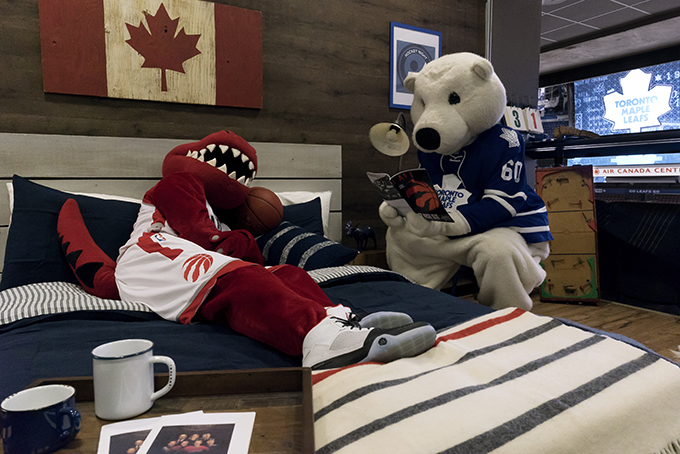 This article appears in the June 2016 issue of strategy.
Lending a friend your bike today could mean getting to play their video games tomorrow. Good values aside, when it comes to sharing, even little kids know that reciprocation is a benefit.
It's been a few years since the appeal of sharing grew up and began to play in the adult marketplace, spawning a burgeoning sub-economy. Indeed, PwC estimates that revenue from the global sharing economy will grow from about $15 billion last year to $335 billion by 2025.
Being able to share our assets in an economical way has jeopardized some traditional business models, but certain established brands, including Maple Leaf Sports & Entertainment (MLSE) and Loblaws, have been paying attention to disruptors, working with them to boost their own businesses.
The experience associated with companies like Uber and Airbnb creates what Ted Graham, innovation leader at PwC Canada and co-author of The Uber of Everything, calls a "halo brand benefit" for partners courting new, mainly younger, cohorts who have loyalty for those innovative companies.
The connection that younger, tech-savvy consumers have with Airbnb, in particular, was one that MLSE wanted to tap into.
"People feel good about Airbnb, people feel good about the Ubers of the world," says Chris Shewfelt, MLSE's senior director of global partnerships.
Disruptive brands are always on the company's radar, he says, but when it saw the success of the accommodation site's global "Night At" program, its first partnership in Toronto was born.
Earlier this year, the companies created a "Night At" experience around two of the city's biggest sports teams – the Toronto Maple Leafs and the Toronto Raptors – where fans who submitted written entries could win an overnight stay at the Air Canada Centre, along with a two-day experience hosted by hockey legend Doug Gilmour.
The program was a success, with MLSE gaining 41 million impressions, 20,000 positive social media engagements about the program and an event video (featuring Airbnb branding) gaining 15,000 unique views within two weeks.
While he was mum on details, Shewfelt says MLSE is continuing a dialogue with Airbnb and keeping track of the sharing economy generally, with more partnerships likely to come.
For Airbnb's part, it tries to partner with iconic brands that people are passionate about, the same way its community is passionate about its own service, says Aaron Zifkin, its regional director for North America. That authenticity factor is part of what makes it an attractive partner for more established brands.
Still, the sharing economy hasn't been without controversy, bringing up questions around taxation and employment standards, among others. Uber's battle with taxi drivers constantly made headlines in Toronto, and last summer, Rover ruffled some feathers over its app that allows for parking space sharing, which the City of Toronto considered "not legal."
"Obviously, a lot of folks are wary about a company that may be sort of dancing on the edges of what is considered legal," Graham says.
But the reward is worth the risk for brands who are beginning to see these companies' staying power as an inevitability, despite headwinds with city councils or bylaws, he says.
Even the insurance industry, not typically considered to be all that innovative and one that had arguably been a barrier for the sharing economy to take off, has gotten on board. In January, Aviva Canada announced insurance for people carrying paid passengers (such as UberX drivers). Intact Insurance and Belairdirect have also partnered with U.S. peer-to-peer carsharing co Turo, which came to Canada in April, to provide coverage for its drivers.
Those insurers gaining potential new customers point to the functional benefits of partnering with the sharing economy, beyond building brand affinity.
In April 2015, Loblaws used Uber while promoting its click-and-collect e-commerce offering in the Toronto area, providing free rides (up to $30) for users of the grocery service.
As young urbanites abandon car ownership, their basket size at the store can decrease, Graham points out. Offering a free ride – and a free trunk – is just good sense.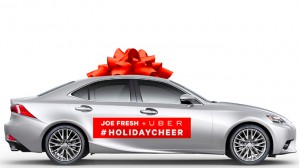 For the past two holiday seasons, Joe Fresh has also partnered with Uber for promotions. In 2014, it used free UberX rides to bring shoppers to two of its downtown Toronto locations for their holiday shopping. Then last year, the company created specially-curated gift packs with Joe Fresh and PC Black Label products to bring directly to consumers, who could order through UberX.
Uber's user base is also being tapped for loyalty programs. In Canada, RBC and Air Miles have offered points to those who take a ride, while Rogers offered Uber credits in a 2014 contest for users of its "Roam like Home" package.
Like Airbnb, Uber is also able to build its brand in local markets through partnerships. For example, the company has created days when users can have puppies delivered to their offices, to play with temporarily, earning the brand free media impressions while also building its local connection through contributions to animal shelters.
Beyond that, sharing economy startups have prompted more traditional companies to rethink their own industries' futures, Graham says. Instead of just internally-driven innovation labs, we'll likely see more collaborations between sharing economy and incumbent brands.
Take General Motors in the U.S. In addition to investing $500 million in ride-hailing app Lyft earlier this year, the motor company introduced its own specific ride-sharing service called Maven in January.
One of the big tenets of the new brand is personalization. In Ann Arbor, Mich., the company uses connected car systems like Apple CarPlay, Android Auto and SiriusX, in an attempt to show that a vehicle can still feel personal, even when it's being rented temporarily, says Zafar Razzacki, UX and marketing lead, urban mobility at GM. At press time, the service was available in Ann Arbor, New York and Chicago, with plans to roll it out in additional U.S. cities this year.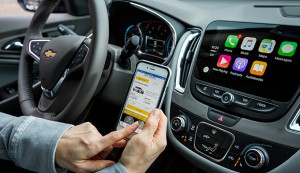 While a convenience play for non-vehicle-owning millennials and even retirees, the service could also drive purchases of GM vehicles by introducing potential buyers to its models, Razzacki says.

Aside from that, Maven is an opportunity for GM to explore shared economy models, he says. While the service is currently a "B2C, round-trip" model, the company is looking at modifications and expansions for how the service will work and even the future of vehicle ownership (fractional ownership, for example).

GM won't disclose how much it has invested in Maven, but it's safe to say it's meant to be a future-proofing idea, with Razzacki saying moves like this one make an important statement about the company's view of what's to come.

If it's right, that means more disruption, and more brands learning to share.