Kit and Ace merges content and commerce
Why the fashion brand has redesigned its e-comm platform to make editorial stories shoppable.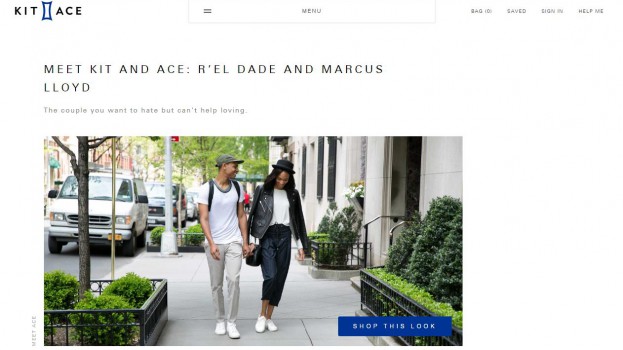 Canadian fashion brand Kit and Ace has revamped its e-commerce platform to blend the experience of reading its editorial content with online shopping.

The new homepage for Kit and Ace, founded by Shannon and JJ Wilson, the wife and son of Chip Wilson, founder of Lululemon, has been redesigned to feel more like a social media newsfeed, with content alternating between traditional product shots, pieces from its lookbook and magazine The Brief, and editorial pieces as users scroll down. The editorial includes things like interviews and "day in the life" stories with people including chefs, bloggers and social media stars.

Be it on the website or the magazine, Kit and Ace has been producing editorial content since it was launched two years ago, says Braden Hoeppner, head of e-commerce at Kit and Ace. What's changed is that every piece of content on the home page is now shoppable. If a user sees a product they'd like to buy in the photos that accompany a piece, they are able to select a size and colour and add it to their cart, without ever leaving the content they are reading.

The redesign also features some personalization, with data on browsing history and past purchases used to insert different products into the feed. On the flip side, customers looking at a product on a more traditional product page can also be redirected to editorial content featuring that item. The redesign was handled by Vancouver digital agency Engine Digital.

"It's a kind of hub-and-spoke model," says Hoeppner. "Customers may want to browse a site for great editorial content on a Monday, then might want to browse for product on a Wednesday. We didn't want to bifurcate that and have them jump between one and the other. We wanted to create an experience where a shopper can be anywhere on the site, but still be able to easily access appropriate content that happens to be living somewhere else."

In addition to simply enforcing its brand identity by showcasing the kinds of lives people who wear Kit and Ace lead, Hoeppner says creating editorial content is a way to address an ongoing challenge for online fashion retail: contextualizing a product to the same degree a physical store can.

"A product like clothing moves and has a feeling to the fabric that you can experience in a brick-and-mortar store, but [that] is hard to replicate online," he says. "The challenge has always been that a product can be flat when it's online. The strategy is to give the product context and enliven it a bit with content so users can experience it more fully."

Looking forward, Hoeppner says Kit and Ace will continue to produce new kinds of editorial content, but is also looking to add more data capabilities to further personalize the experience, like using geolocation to serve products based on the weather.

"There's a lot of tech on the digital marketing side that's being used for things like ad targeting, and not many are stitching that information they already have together with the content on their websites," Hoeppner says.