Age is but a number for Smirnoff
To launch a new ready-to-drink line, the brand reached out to millennials with 87-year-old influencer Baddie Winkle.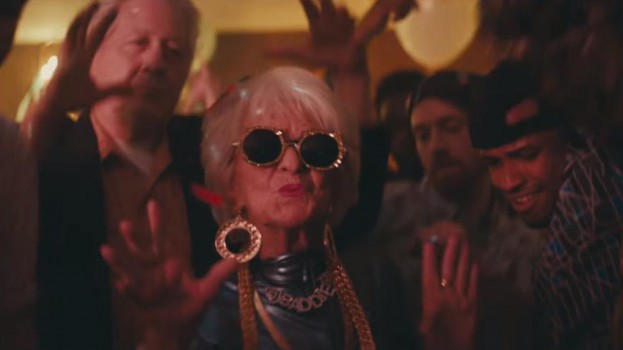 Smirnoff Electric, a new non-carbonated, ready-to-drink vodka beverage, is launching with a national campaign that hopes to connect with millennials' sense of inclusivity by showing how anyone can have fun with the brand, no matter their age.
In the lead spot for the campaign, we see 87-year-old Instagram star Baddie Winkle adventurously dressed (as she always is) and turning heads at a party where she and others her age fit right in with the rowdy, dancing 20-somethings.
72 and Sunny and Toronto's Traffik led creative on the campaign, with media buying by Carat.
Last year, Traffik led a campaign that forged a new, more down-to-earth positioning for the Smirnoff brand. Iain Chalmers, VP of marketing and innovation at Smirnoff parent company Diageo Canada, says the launch campaign for Electric is reflective of the brand moving to be more inclusive. He adds that's something more important to millennials – who are leading a growing consumer interest in non-carbonated beverages like Electric – than to previous generations.
"We don't want to talk about the regular stuff that beer and RTD talks about, like refreshment and taste and peaceful summer evenings," Chalmers says. "We used to talk more about refreshment, but now we're trying to take more of an emotional angle to get that millennial consumer. The video is not just one 87-year-old dancing with other people her age, it's them having fun alongside a room full of young people. We think millennials will see that and think, if they can include an 80-year-old consumer, they can include myself and all my friends."
In addition to the 60-second spot, the campaign will feature smaller, 15-second vignettes featuring Baddie Winkle on Facebook and Instagram, as well a digital ad driving to the full YouTube video. Chalmers says the bulk of Smirnoff's media spend goes toward digital to reach millennial consumers, but adds that there is still value in out-of-home executions, which will be part of this campaign, with young consumers spending more time outdoors for the summer months. There is also an extensive sampling and tasting program, focusing on music festivals like WayHome and Osheaga, as well as 50 on-premise events at bars across Canada as part of Smirnoff's long-running Sound Collective music program.
"In the RTD category, consumers are promiscuous with their choices," Chalmers says. "It's low cost to entry, and because they can get single cans or six packs instead of paying for something like a full bottle, consumers are able to trade and try a lot. The most important thing is we drive awareness so they recognize us and pick us up when they see us on the shelf."