Mid-season: time travel, spinoffs and sequels
Time travellers, this fall's superheroes, feature in Making History and Time After Time.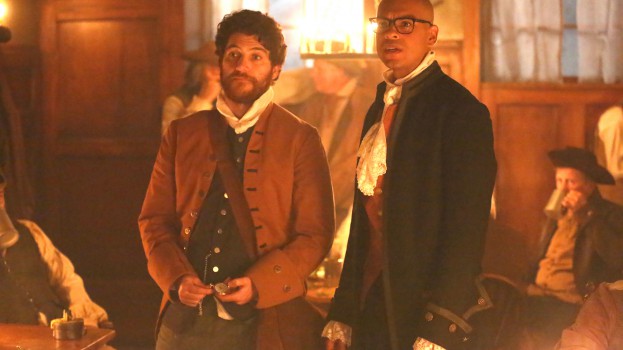 This article appears in the Summer 2016 issue of strategy.

Are time travellers the new superheroes?

First up is Making History (pictured), a comedy starring Adam Pally (Happy Endings) and Leighton Meester (Gossip Girl) airing on City and Fox. The comedy follows two pals who travel back in time to colonial Massachusetts, in a duffel bag turned time machine, when it turns out the American Revolution hasn't happened.

Joining it is Time After Time, airing on CTV and ABC. Based on the novel of the same name, the series follows H.G. Wells (played by UnReal and Harry Potter films actor Freddie Stroma) as he travels to modern day Manhattan to track down Jack the Ripper, a friend who uses the author's time machine to visit the future. Josh Bowman (Revenge) has taken on the role of the infamous villain.

With the success of the Dick Wolf-created Chicago line of dramas comes Chicago Justice (starring The Player's Philip Winchester). Meanwhile, The Blacklist is also getting its own spin-off this winter with The Blacklist: Redemption, following the original's Tom Keen character (Ryan Eggold). Both franchise follow-ups will air on Global and NBC, with the former having a distinct strategy this year of focusing on its successful franchises, including the aforementioned Chicago series and NCIS, says Corus COO Barbara Williams.

"We really believe that these franchises are super powerful for us and we want to grow them wherever we can," she says.
On the remake/reboot side of things is action drama Training Day (pictured bottom right) airing on CTV and CBS, which revisits the premise of the award-winning 2001 film. Executive produced by Jerry Bruckheimer and Antoine Fuqua, who directed the original film, the series stars Bill Paxton (Agents of S.H.I.E.L.D.) as the corrupt veteran cop and newcomer Justin Cornwell as the rookie.

The mid-season has also proven to be the prime time for testing new spinoffs, including 24: Legacy (pictured left) airing on City and Fox. The series was created by 24′s original writers/producers Joel Surnow and Robert Cochran. At press time, there were rumours that Kiefer Sutherland, starring on CTV's Designated Survivor could return to the reboot as his Jack Bauer character.

City and Fox will carry the sequel to Prison Break, which brings back the original's Wentworth Miller, now aiming to get out of his cell in Yemen. Written by the first series' creator Paul Scheuring, the series is being produced by 20th Century Fox Television, Adelstein-Parouse Productions and Original Film.

Also airing on City and Fox will be Shots Fired, a drama about the aftermath of an African-American police officer fatally shooting a white teenager in the Southern U.S. Brian Grazer (24) is a producer on the series, which stars Sanaa Lathan (Love & Basketball), Stephan James (Race), Richard Dreyfuss and
Helen Hunt.

City's priority was to diversify its schedule and move away from an over-reliance on comedy, partly through the mid-season drama additions, Rogers' Hayden Mindell says. But it hasn't abandoned its commitment to comedy, picking up The Mick (also on Fox), a look at a mess of a woman (It's Always Sunny in Philadelphia's Kaitlin Olson) forced to care for her sister's stuck-up rich kids.

Live shows are also big for the mid-season, with the success of NBC's musicals from the past two years translating into more plans, including Hairspray! and A Few Good Men on City, both led by Craig Zadan and Neil Meron, who also produced NBC's other live productions, including The Sound of Music, Peter Pan and The Wiz.