The silver screen goes small
Lethal Weapon and The Exorcist move to the tube.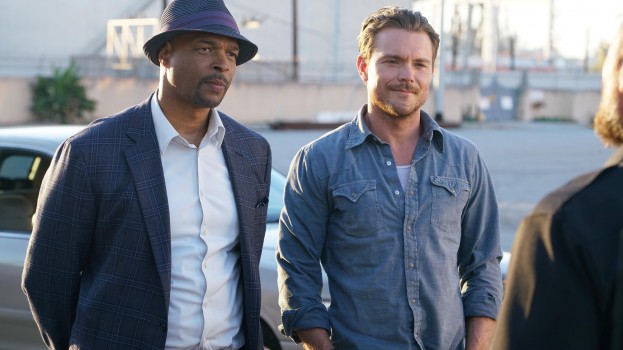 This article appears in the Summer 2016 issue of strategy.
Try, try, try again – apparently that's a theme this year. Despite the demise of 2015′s movies-turned-TV shows (including Limitless, Minority Report and Rush Hour), several big-screen hits have been shrunk down again.
Lethal Weapon (pictured above), Wednesday nights at 8 p.m. on City and Fox, brings Riggs and Murtaugh, the familiar rogue and straight-laced buddy cop characters from the '80s and '90s movie franchise, back to life for the action comedy, which is executive produced by McG (Mysteries of Laura, The O.C.)
Starring Damon Wayans and Clayne Crawford, the show could jump out at the 25-to-49 demo and, like the movie, there's good chemistry between the stars, says Atreyee Dey, group director of broadcast media at Touché!
Tonia Beale, Excelerator Media's director of trading, says those who tune in will likely be men between 18 and 49. But the series is also up against Survivor on Global, Blindspot on CTV and Arrow on CTV Two, where audiences might flock.
Fridays at 9 p.m. will be possessed by The Exorcist on CTV and Fox, with Grimm as a suitably demonic lead-in. The spin on the horror classic, produced by 20th Century Fox Television and Morgan Creek Productions, stars Geena Davis as a mother who believes her daughter has been taken over by a demon.
Davis' star power and believability are draws for viewers, Beale says. "I think that this will talk to adults 25 to 29 and anyone who loves to be scared," she says.
But given the Friday night time slot, its audience is a toss-up and may work best as an on-demand show, says Pina Cuffaro, director of media procurement at Media Experts.
The modernized version of the Oscar-nominated film means CTV has ensured a drama every night of the week. It will square off with CBC's The Fifth Estate, Shark Tank on CTV2, and Hawaii Five-0 on Global.