Cannes 2016: Canada Goose, Leo, Grey and Critical Mass pick up Lions
Canada won in PR, Digital Craft and Design but was shut out of the Outdoor and Product Design categories.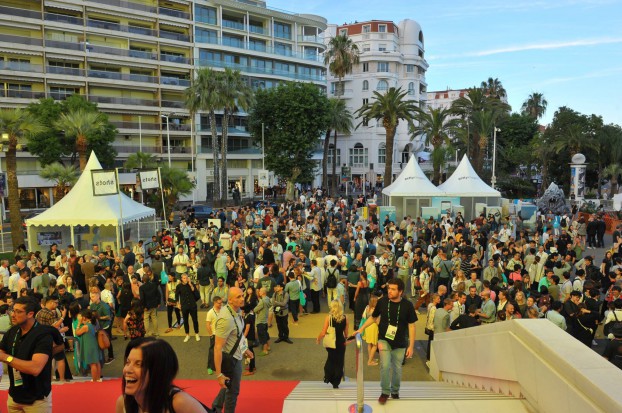 By Jennifer Horn, Harmeet Singh and Josh Kolm
Canada picked up a Silver and two Bronze Lions in Design, PR and Digital Craft on Tuesday but the country was shut out of the Outdoor and Product Design categories. That brings our total wins to 11 Lions so far this year.
Cannes focuses on more integrated design
Pulling in a Gold Lion in Design was Canada Goose for its "Out There" campaign. Led by CAA Marketing L.A. and Canada, the campaign featured a five-minute film directed by Canadian filmmaker Paul Haggis, and told the story of the 60-year-old brand and some of the adventurers who have donned its iconic coats.
Leo Burnett's "Printed by Somerset" campaign won a Silver Design Lion in the website design sub-category (the campaign was also shortlisted for Rebrand/Refresh of An Existing Brand). It's Leo Burnett's second Lion this year, having picked up Bronze in Direct yesterday for its work with Raising the Roof.
"Only 250 campaigns out of over 2,800 made it on the shortlist, so even being there is something to be cheered," said Claude Auchu, VP and CD at Lg2 and member of the Design jury. "The idea was first and foremost, then the craft that went into bringing it to life. That's why Leo's campaign and their website for it won. Everyone fell in love with that idea of analog printing being brought to digital. And in the future, we're going to see a lot of work like that, where design is executed as part of that 360 of communications."
The Design Grand Prix was given to Dentsu Tokyo for the "Life Is Electric" campaign for Panasonic. The agency found 21 different ways to charge regular analog batteries, from getting a hamster to run on a wheel to hooking it up to weightlifting machines to plugging it into a table full of citrus fruit. The batteries (even the ones which were not able to be fully charged) were then sold in regular retail channels to allow people to "see" electricity, something that is otherwise invisible, and get an idea of what goes into creating it. That process was then reflected in a broader campaign that illustrated the work that went into charging each battery.
"It used design across many different touchpoints, not just one single activation," says Tristan Macherel, ECD at French agency Landor and president of the Design jury. "It managed to used the power of design to change the perception you had of a product, in every space where this brand touches its consumer."
"It's also creating a bridge between digital tools and the physical world," he added. "Our whole industry is going to have a challenge in the next two years about using new tech without forgetting the way we do design. This piece combined both of those things together with cleverness and beautiful craft."
Big ideas in PR
The lone Canadian winner in PR is an early top performer for the country: Grey Canada's "Ladyballs" campaign for Ovarian Cancer Canada, which received support from Erin Richards PR, snagged a Bronze Lion. The award is the campaign's second of the festival, following its winning Silver in Health & Wellness over the weekend.
After the initial "Ladyballs" campaign was released, the response in the media and on social was generally positive, though some questioned whether the phrase "ladyballs" (which framed female bravery through the lens of the male anatomy) was appropriate. A series of short documentary videos featuring ovarian cancer survivors was released where they took on "haters" head-on.
The PR Grand Prix was a campaign by Forsman & Bodenfors for Swedish grocery store Coop. To illustrate how much better eating organic produce is for your health, a family who had previously not bought organic food because of cost concerns took a urine test, which found eight different pesticides in their system. After just two weeks of eating only organic produce, the same tests came back with no pesticides in their system.
"We weren't looking for work that demanded attention – we were looking for things that earned attention and, because of that, were able to get the results they were going after," says PR jury president John Clinton, chair of Edelman Canada and head of creative and content for Edelman North America. "People have been talking about organic food forever but very few people actually eat it. This got people to pay attention in a surprising and alarming way, but also caused a change in business."
When asked why the list of winners was, as in past years, predominantly made up of work by ad agencies, Clinton said PR agencies are often doing crisis management and government communications work, and not just focusing on creative marketing that could be entered into awards shows. The jury was looking for the best work that used the PR discipline to deliver the target results, regardless of its source.
"I don't think this is about a ranking of the different disciplines," Clinton says. "We are here to celebrate what are the best ideas. We didn't look at where those ideas came from."
Clinton says the jury was also highly cognizant of cases that showed off coverage in international news outlets but didn't make an impact in their particular regions. Many jurors have also said that making better case videos, which better contextualize campaign results, is a must for Canadian agencies that want to compete in Cannes. But Clinton mentions another way that agencies should be improving their cases: stop mentioning Justin Trudeau.
"It became a running joke in the jury room, where someone would say, 'That's good, but did Obama, Trudeau and Ashton Kutcher comment on it?'" he says. "We understand why a prime minister talking about your work seems impressive, but it becomes less impressive when he comments on everything."
Digital Craft breeds technological artistry
The first-ever Digital Craft Lion for Canada went to Critical Mass and Nissan for the "Diehard Fan" app.
The pair picked up a Bronze in the new category for the app that helped football fans show support for their favourite college football team. The app was created in partnership with the National Collegiate Athletic Association (NCAA), and it used the wonders of modern facial recognition technology to apply face paint specific to a college team. The mobile-specific augmented reality app matched the paint to every line, contour and trembling muscle of a fan's screaming face while snapping a photo.
But it was a close call: one of the jurors had the app on their phone, and advocated for push amid some criticism from fellow jury members.
When the case study came up on the screen, jury president and co-founder/CCO of MediaMonks in The Netherlands Wesley ter Haar says many felt they had seen similar versions of the facial recognition technology before and that it was fractionally reminiscent of Snapchat filters.
"One person in the room actually had the app on their phone already and spoke up for it, said that people should try it because it's amazing," he says. "That made people go, 'Sure, it's been done before, but this is done on such a high level.' And that makes it an interesting piece for a Craft jury."
He says that is what brought the "Die Hard Fan" app back into the discussion for a Lion, adding they also liked that Nissan and the agency created an app, as opposed to embedding it into Snapchat, which provided fans with an opportunity for repeat use.
"It was something we felt that people would use again and again."
Ter Haar added during the press conference that the panel had six days of judging to define the category, which was introduced this year. The Digital Craft category celebrates "technological artistry" that "demonstrates exceptional form and function in a digital context," and this is what ter Haar set out to do.
"The baseline was exquisite execution, it always had to rely on that regardless of category definition," he said, which is precisely what they saw in the Grand Prix winner, Because Music's "Because Recollection" by 84.Paris. The playfully interactive website was a journey through 10 years of sound and various artists. Ter Haar said it brought sound and image design together perfectly, while also being aesthetically pleasing.
No Canadian wins for Outdoor, Product Design or Creative Effectiveness
Despite four shortlisted campaigns, Canada was left out of the Outdoor category this year.
The Grand Prix went to Colenso BBDO Auckland for its "Brewtroleum" campaign for Heineken New Zealand's DB Export brand, centred on biofuel derived from the by-products of the beer brewing process.
For jury president Ricardo John, COO and regional creative director at J. Walter Thompson Brazil, what made the campaign stand out for the Outdoor category was that drivers could actually use and experience "Brewtroleum" at a real petrol station.
As a category, Outdoor has shifted from relatively traditional creative to campaigns that are now interactive and can reach consumers one-to-one instead of one-to-many, he says.
Though Leo's awards darling from last year, Always' "#LikeAGirl," made it onto the Creative Effectiveness shortlist, it wasn't awarded a Lion. Melanie Johnston, president at DDB Canada and member of the Creative Effectiveness jury, says it faced stiff competition in a category that only awarded 13 Lions.
"Obviously, from a creative perspective, it's some of the best work in the world," Johnston says. "But when you look at the results it delivered and compare it to what the other campaigns had, the competition was really tough, especially John Lewis."
The Creative Effectiveness Grand Prix went to Adam&Eve DBB in London for the "#MontyThePenguin" holiday campaign for John Lewis. The campaign helped the retailer break the £175-million mark in sales in a single week (a record for the brand) and had more than 349 million impressions while delivering an 8:1 return on investment.
"This case won because it stands for everything the Cannes Festival stands for: real creativity that drives truly exceptional results," said Andrew Robertson, president and CEO of BBDO and president of the Creative Effectiveness jury. "It was beautiful, emotional work. And it proved beyond reasonable doubt that it drove sales results."
Meanwhile, 11 Lions were awarded in the Product Design category (which didn't have Canadian work on its shortlist).
The Grand Prix went to Google Creative Lab in London for its Project Jacquard, which weaves touch and gesture technology into textiles to make everyday items such as clothes and furniture interactive.
That work "made us dream as product designers," says jury president Amina Horozic, lead industrial designer at San Francisco's FuseProject. While several of the contenders were products that checked all the boxes when it comes to look and feel and business impact, the jury wanted to choose a Grand Prix winner that wasn't standard and would spark imagination among designers, she says. The techy fabric's applicability across categories also made it stand out.