CF Fairview introduces mall mapping pilot
The tool allows users to navigate multi-storey malls on mobile, and provides useful data.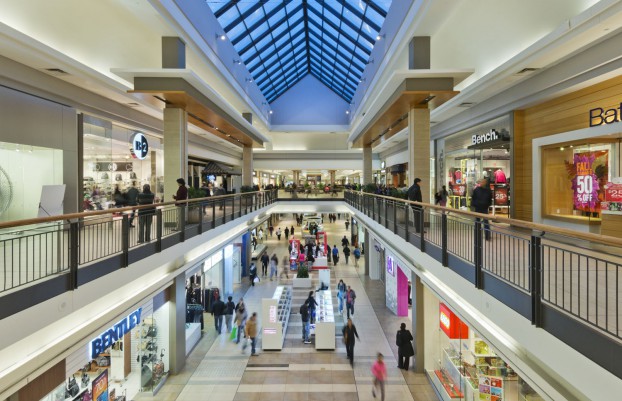 We've all been there: standing in front of the mall's antiquated directory, searching for a store, counting levels, visualizing right and left turns, anxiety mounting. Cadillac Fairview thinks it has a solution.
The shopping mall owner is piloting a wayfinding technology in its Toronto CF Fairview mall, which it hopes will help consumers get around while providing some useful data about their movements.
CF partnered with Toronto-based tech company Aislelabs for the new mobile navigation tool.
"You see how frequently people use their mobile phones when they're outside of shopping malls to find out where they want to go," says Jason Anderson, SVP of marketing at Cadillac Fairview. "We thought it should be as easy to use your mobile phone while you're inside the shopping mall."
It's doing so by adding the wayfinding function to its CF Shop app at CF Fairview. A blue dot shows users where they are in the mall; after selecting where they want to go from the mall listing, it maps out how to get there, taking into account the mall's multiple levels – the traditional challenge for other mapping systems.
The app could create a much more efficient shopping experience. Like drivers anywhere in the world, and tourists navigating foreign cities, consumers won't need to get lost anymore. But Anderson says he's not worried about losing out on business from the meandering shopper, inefficiently going from point A to B and unexpectedly finding other shops to visit along the way.

"We're laser-focused on creating a great experience for customers, and if they tell us they want easy-to-understand and efficient navigation, then we should give that to them," he says.

CF is responding to mobile's role in the shopping experience, with research showing that more than 70% of consumers leverage digital in some way when making purchases, whether that's comparison shopping or communicating with friends to get opinions.

It now has Wi-Fi at all 20 malls in Canada. The social log-in, also through its app and powered by Aislelabs, means roughly half the users enter via Facebook, Anderson says.

"That gives us some limited access to data," he says.

As of now, the mall doesn't have the ability to link the data from the wayfinding tool – how consumers are moving around the mall – to purchases, but Anderson acknowledges that "certainly this world is changing so fast."

"We think an understanding of purchase habits and how they move throughout the mall, and being able to attribute that to an individual and build a relationship with them – we're definitely thinking about that," he says. "We don't have that functionality right now but as we partner with more companies like Aislelabs, that's the place we're looking to get to build that really direct connection with customers."

The new digital offerings are part of a $2.5-billion investment in CF properties.