Hyundai's guerrilla tactics
Why the brand veered toward an unstructured social shoot for its compact SUV model.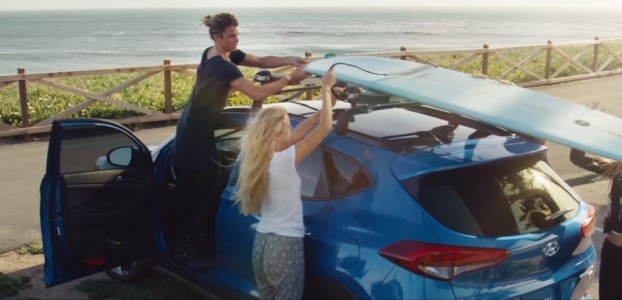 Shortly after launching a new socially-driven campaign, Hyundai Canada is already seeing strong results from the change in strategy.
To promote its new Tucson compact SUV model, the brand needed to differentiate in a competitive market where every model is centred on adventurous lifestyles, and create a more robust, younger positioning for the car, says Lawrence Hamilton, marketing director at Hyundai Canada.
The target for the vehicle are the "DINKYs": double income, no kids yet, he says. In other words, younger, pre-family Canadians who live active lifestyles. Research showed that target is veering away from traditional TV and is instead engaging more with social content.
To position the Tucson as desirable for that target, the brand partnered with social media stars Jay Alvarrez and Alexis Ren for an unstructured, guerrilla-style shoot, giving the pair a car, camera equipment and a small crew to capture what ended up being 50 hours of footage. The idea was to have the creative appear similar to amateur-style shoots using GoPro cameras.
The first ad in the resulting online and social "Full of Life" campaign, launched in May, features Alvarrez and Ren driving the Tucson to various adventures, including skydiving, surfing and mountain biking. A 60-second version of the ad – part of the ongoing "H-Factor" brand positioning – is now running in cinema, only the second time Hyundai has used that medium (the first was for its Elantra model earlier this year).
Since launch, the campaign has doubled the traffic to Hyundai's site and led to a 70% year-over-year increase in traffic to the Tucson's build-and-price page. Two versions of the video (English and French) collectively have more than 2.5 million YouTube views.
And while other factors have contributed, sales for the Tucson in May and June were up 82%, and 314% over the same months last year.
The campaign also helped Hyundai attract 23,800 followers on Instagram, an important metric given its goal of targeting social-savvy young Canadians, Hamilton says (its followers grew by 700%, largely because of posts from Alvarrez and Ren).
Material from the rest of the shoot with Alvarrez and Ren will be used throughout the year for additional ads, including more seasonally relevant ones in the winter, Hamilton says.
The approach wasn't without risk, given that the company was allocating budget for a shoot that didn't have the same structure as production for a traditional TV campaign, he notes.
Overall, Hyundai Canada has been shifting more to social media, Hamilton says. Paid media on Facebook, for example, has grown, with the auto brand buying 20 million impressions last year, compared with 140 million in the first five months of 2016.
More importantly, it's shifting how it writes its briefs, with the understanding that creative should be bespoke for the media, he says.
All creative, production, media buying, and placement was managed by Innocean Worldwide Canada.