Samsung brings #GalaxyLife on tour
The cross-country pop-ups show off the company's "full mobile ecosystem" through various lifestyle activities.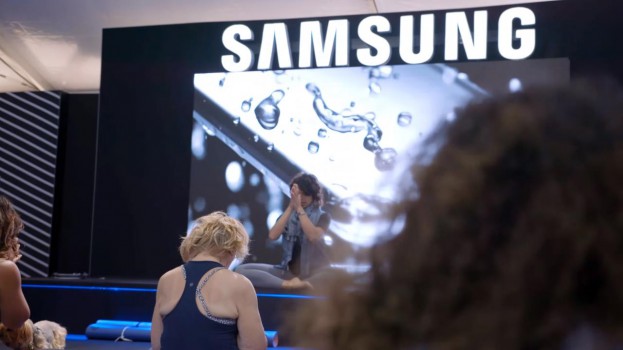 Samsung Canada has been trying to show Canadians how its tech can enhance their everyday lives, and now it's giving them a place where they can see that for themselves with the touring "#GalaxyLife" pop-up space.

Not tied to a particular product, the custom-built space shows off Samsung's full mobile ecosystem – from phones and wearables to AR and VR – through the lens of various lifestyle activities, like fitness classes, photography demos and live music.

#GalaxyLife is being supported by Samsung's full agency roster: North Strategic, Mosaic, Cheil Canada and Starcom

Though the content will differ based on insights about the audience in each city, the spaces will feature things like interactive graffiti walls or a 3D avatar creator that puts users on a beach in Rio (Samsung is a global sponsor of this summer's Olympic Games), as well as demos of Samsung's latest smartphones, wearables, VR tech and headphones.

The first stop in the "#GalaxyLife" tour in Vancouver wrapped up earlier this week. Next, the experience will have stops in Calgary, Montreal, Edmonton and Toronto throughout August, with full dates and operating hours available on the "#GalaxyLife" website. The Toronto dates also coincide with the Canadian launch of the company's "next flagship product."

Samsung Canada has been active in the experiential space, even showing off its "Galaxy ecosystem" last year when it brought the Global Galaxy Studio to Canada. However, besides having more of a cross-country reach, "#GalaxyLife" leans more heavily on showing Samsung products in the context of activities Canadians are already passionate about – further moving away from features and technical specs and more towards relating products to things important to its target of "young-minded Canadians."

"The intention was to bring our full ecosystem to life that visualized the '#GalaxyLife' lifestyle," says Mark Childs, CMO at Samsung Canada. "We wanted to do the unexpected in terms of how tech can bring things you're already passionate about to life."

The space is different from other pop-ups in that it isn't occupying a pre-existing retail space, instead building its own temporary structure suited exactly to Samsung's needs. In addition, many of Samsung's activations last year were tied to its sponsorship with events like music festivals or TIFF, and Childs says now was the right time to let the Samsung experience stand on its own.

"We focused in on things like music because we knew that's a passion-point for a young-minded millennial," he says. "But we also know there are many other passions, so we wanted to take a more inclusive and holistic view of that Galaxy experience. We have seen good engagement at events, but we felt that we had the opportunity to bring an experience to life ourselves, and also make something that could travel."

Samsung will be promoting the spaces with video content taken at each of the stops, but Childs says it is also giving visitors as many opportunities as possible to create their own video content within the space that can also be shared on social.