SiriusXM plays with food
A storefront for a suggestively-named pizza place in Toronto is promoting this year's Top Comic competition.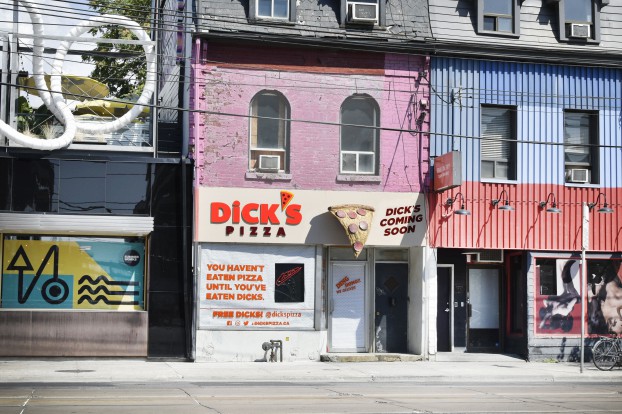 SiriusXM is telling Torontonians to do something the rest of Canada has wanted to do for a long time.
In a high-traffic section of Queen St., in a space previously occupied by the Drake General Store, a storefront for Dick's Pizza has popped up, bearing the slogan: "You haven't eaten pizza until you've eaten Dicks."
Dick's Pizza will never open, though, as it is a tounge-in-cheek stunt promoting this year's SiriusXM Top Comic competition, and going to the Dick's website or social account to find out more about the pizza place will send visitors to the Top Comic voting website. The campaign is being led by Taxi 2, with media handled by Touche!.
For last year's campaign promoting the competition, SiriusXM focused on out-of-home posters and digital ads that showed how the skewed sense of humour (that lets comics do what they do) would manifest itself if they didn't win the contest and were forced to take a regular job. Kayla Schwartz, manager of publicity, promotion and sponsorship at SiriusXM Canada, says the insights that guided this year's Top Comic campaign are similar to the ones from last year's (and that same idea is being used again in new posters this year, pictured below), but the company wanted to build on its social success and make it bigger and better by bringing that idea to life in the real world.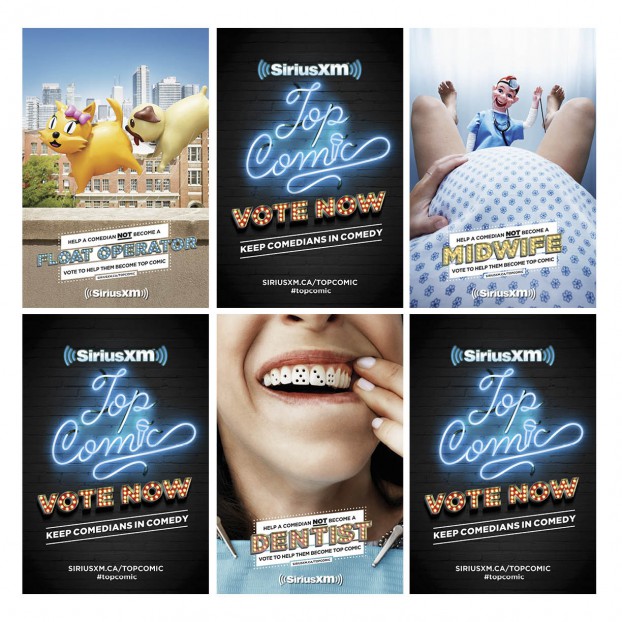 "Our insight was very simple, that comedians have a unique perspective and see hilarity in everything they do," she says. "We're seeing people fall for the joke and taking photos and sharing the video. We're dealing with comedy fans, who know good comedy and know what they like, so the advertising had to be as good as the actual comedy we were promoting. It is a challenge but also fun as a marketer, because you don't often get those kinds of opportunities."

SiriusXM has different marketing objectives for different departments and channels, but Schwartz says one of the company's main goals is to promote Canadian content, which has been a big differentiator for the service.

"We're a heavy hitter in supporting Canadian content," she says."We have a lot of Canadian channels that play Canadian artists, and we have the only 24/7, uncensored Canadian comedy channel. This lets us talk about that, put those Canadian comedians at the forefront, but also get some good brand exposure for our efforts around that."