Check it out: Out-of-home that's up to scratch
A Halifax museum goes after the feline crowd with carpet-wrapped posts.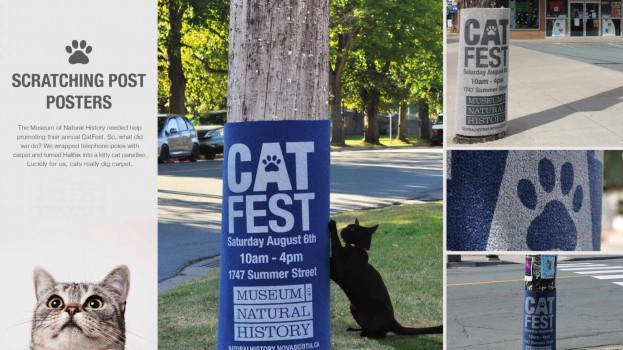 We're not sure whether ordinary cats were invited to the Halifax Museum of Natural History's Cat Fest, an event celebrating International Cat Day on Aug. 6.
The Fundy Fanciers Cat Club hosted a show at the museum featuring a number of breeds that day. People were encouraged to dress up as cats, turning the otherwise staid science museum into an Andrew Lloyd Webber stage. But what about the actual cats of Halifax? What did they get out of the Cat Fest?
The answer is scratching posts, in the form of outdoor advertising for the event. Halifax agency Extreme Group was behind the campaign, and wrapped telephone poles around the city with carpet for cats to sink their claws into.
Funny enough, this reminds us a little of Rethink's 2014 campaign for Scarborough's Bulk Cat Litter Warehouse, featuring equally feline-enticing catnip-laced flyers.
From Stimulant