McDonald's takes a trip to the farm
The QSR continues to push transparency by answering kids' honest questions about where its food comes from.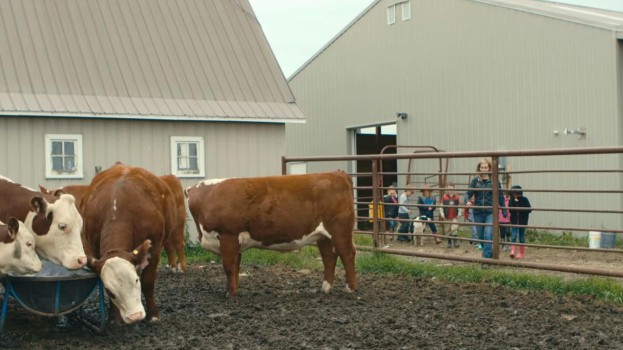 McDonald's Canada is continuing to talk to Canadians about where their food comes from, this time by sending bus loads of kids straight to the source.

The latest "Not Without Canadian Farmers" campaign has groups of children visiting family-run farms McDonald's works with, specifically Harvie Ranching in Olds, Alberta and Desjardins Farms in Drummond, New Brunswick.

It aims to draw attention to the fact that more than 80% of McDonald's ingredients are sourced from Canadian farms and give the participating kids a chance to ask questions about the work that goes into being a farmer.

More videos – airing on TV and pushed through social – that focus on other ingredients will roll out in the near future. Antoinette Benoit, SVP of marketing at McDonald's Canada, says the campaign is starting out with farms that have the most direct link to the QSR's more iconic products – burgers and fries. McDonald's worked with Tribal Worldwide Canada on the campaign, with OMD handling the media buy.

The brand introduced the "Not Without Canadian Farmers" platform last year as an extension of the transparency-focused "Our Food, Your Questions" campaign from 2012. Benoit says last year's campaign was a way to continue to focus on transparency, but also place look more at the "answers" to the questions by highlighting the source of its food, something that's important to Canadians.

This year, the idea was not just to say that it was important to source from within Canada, but to show why.

"To do that, we had to show the farmers," Benoit says of the campaign, which doesn't show or mention any McDonald's products. "When you see them and the way they work, it makes it easier to understand their importance. They are real people, like us, and the more time we spend with them, the more we realize they are just like us, just with a different job they are passionate about."

While food sourcing is something that McDonald's has found is important to Canadians during past campaigns, Benoit says there can sometimes be a disconnect between that desire and the farm. She adds that part of the idea for focusing on farmers was based on positive feedback received from them during last year's campaign, which made the QSR realize farmers were the best people to explain and celebrate the work they do.

"We did research to see how connected urban Canadians are to the farmers, but we'd ask them a question like, 'Where does the food you eat come from?' and we'd get answers like, 'The fridge' or 'The shelf at the store,'" she says. "We're trying to make them human. When people think farmers, sometimes that vision is a bit stereotyped. The campaign is totally focused on family farms, because many of the farms we work with and the majority of the food production in Canada comes from these kinds of farms."

Aside from the farmers themselves, the only people seen in the videos are children, who are well-suited to the goals of the campaign.

"Kids have a genuine smartness, and you can rely on them to see right through to the things that matter," Benoit says. "We want to speak more to parents, because they are the decision-makers when it comes to food, and also feel a great responsibility over food quality. Simple truths are what tend to get a positive response from them, and kids are really good at being direct and highlighting those."

McDonald's – both in Canada and globally – has committed to multiple sustainable farming initiatives for the ingredients it uses. McDonald's Canada has recently begun to use the sustainable beef produced through these initiatives, and Benoit says the chain will be speaking about that more in the future, especially as these initiatives begin to produce other verified-sustainable ingredients.