Juniper Park expands its ranks
The shop has added 22 new staff and made several promotions in response to new client work in recent months.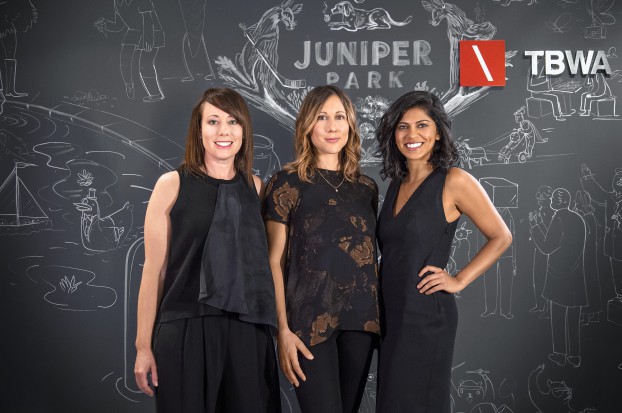 Pictured (left to right): Juniper Park\TBWA's new account leaders Amy Sawyer, senior account director, Jessica DeSantis, account director and Serena Budhwani, account director.

Juniper Park\TBWA has gone on a hiring spree over the last several months, with 22 new staff members joining across the agency's departments.

The hires, especially those on the account team, come in response to new assignments from clients including CIBC Sponsorship, the Canadian Diabetes Association, Pfizer and GoDaddy. The new staff have come to the agency since April, with several joining earlier this month.

Leading the hires are three senior additions to the client services team to help lead the agency's accounts. Amy Sawyer, senior account director, will be leading the agency's pharmaceutical clients, and brings experience at FCB Toronto, John St. and Maritz, working with clients including GlaxoSmithKline, Purdue Pharma, Johnson & Johnson, Loblaw and Stryker Canada.

New account director Jessica DeSantis joins from Cossette, having also worked on the account teams at Zulu Alpha Kilo and Bos, with client experience including General Mills, Habitat for Humanity, National Bank, OLG, Bell Canada and Labatt. Serena Budhwani joins after nearly three years at Toronto's Behaviour, with experience at Boom and GMR.

Other new additions to the client service team in recent months include five new account executives: Michael Leutner from Grip; Nicole Piercey from the marketing teams at Global University Systems and EF Educational Tours; Jacqueline Lam from FCB Health; Amy Liu from DentsuBos; and Coco Meng from Havas Worldwide Beijing.

Four account coordinators have also joined the agency: Nic Stevenson from the marketing team at Tim Hortons; recent Humber graduates Deanna Coates and Monte Nassar; and McGill grad Brian Lau.

The account team has also had three promotions. Mark Dicks has been named group account director, Edoardo Albani has been named account director and Milly Benko has been named account supervisor.

On the creative side, six new hires have been added in various roles. Art director Ariel Gagnon comes from Ogilvy Sao Paulo and copywriter Laura Simhoni from Traffik. Designers Lianna Petridis and Cody Sennyuen come from Idea Rebel and Stephanie Lyons Handcrafted, respectively. Interns Brianne Collins and Cassandra Valchuk have both been hired on full-time, as junior copywriter and junior art director, respectively.

Following the hiring of Mark Tomblin as CSO earlier this year, the agency's strategy department has also added Anne Zahan, previously of Innocean, as a community manager.

Juniper Park's video production unit has also added Karen Blazer as senior producer, Martina Esguerra as a producer, Roderick Reano as an editor and Summer Mitterhuber as a junior digital producer.

Finally, two additional promotions round out the recent changes at the agency. Mary Romas has been named director of human resources, while Natalie McClare has been named creative services manager.

Aside from Tomblin in May, Juniper Park's last round of hires was announced in February, with 14 new staff joining the agency.