McCain's more wholesome Pizza Pockets
Contrary to social media buzz, the snacks aren't going away. They are part of a new line reaching more consumer demos.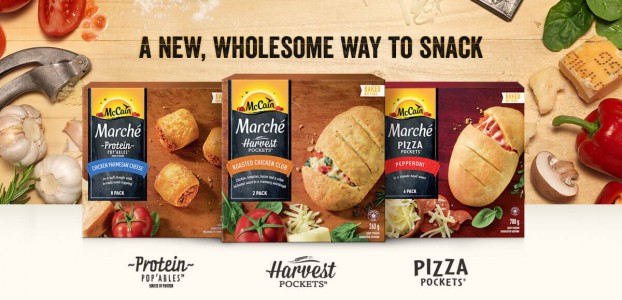 Late Wednesday afternoon, McCain formally introduced (via Twitter) a slightly new look for the iconic Pizza Pocket and its new family of heartier, more wholesome frozen snacks, McCain Marché.
Its debut came after days of social media buzz when an independent grocer (inaccurately) tweeted that Pizza Pockets were set to be discontinued in the near future. This rumour was inadvertently fueled by McCain when the Pizza Pockets product pages disappeared from its Canadian website.
A quick click elsewhere on the site, however, revealed that Pizza Pockets had not been discontinued, but merely moved under a new brand umbrella.
Since 2010, McCain has used the "It's All Good" philosophy and brand message aimed at reducing the amount of things like artificial colours in the ingredients lists of its products in favour of "real" ingredients, relaunching a number of its products in 2013.
While the packaging and "baked-not-fried" message on the box speaks to that, Vikram Bawa, VP of marketing for McCain Foods, says the larger motivation behind creating Marché was the insight that hectic lifestyles are leading to more snacking in households, but that hasn't eliminated the need for a fully satiating meal.
"One consumer we talked with was a mom with two kids who had 15 minutes after work to get her kids ready for some kind of activity," he says. "That leaves a long gap until supper time. They go into the fridge and pantry and grab them something like yogurt or granola bars, which is fine, but it's not fully satiating. So there's a big consumer need for something warm and satiating that could still be made and eaten in the same amount of time."
Part of the reason McCain launched an entirely new line to serve those needs, as opposed to simply re-positioning Pizza Pockets, was to bring the product's "snackability" to a wider range of flavours.
The Marché line also includes the new Harvest Pockets – which features more "adult" flavours and ingredients like roasted chicken, spinach and broccoli inside sourdough bread – and Protein Pop'ables, more bite-sized snacks filled with things like Italian sausage and Jamaican beef. The recipe and ingredients for Pizza Pockets will not change, though the shape of the pocket is now more oval, and it includes more cheese and protein filling inside.
"Pizza Pockets were already serving that wholesome purpose, but there was an opportunity to not just upgrade it and make it more relevant to consumers, but also introduce a whole platform that talked to more than just that core Pizza Pocket consumer," Bawa says. "Moms were saying their kids can eat Pizza Pockets, but they wanted something that fit their tastes. Whether it's moms or young adults or empty-nesters, we know consumers are looking for something that is warm, satiating and helps them get between meals and activities."
"It also creates more choice for the consumers, who seek a lot of variety in the frozen food category," he added.
Marché products began shipping to key retail partners earlier this month and should be available in most stores by mid-September. That will be followed by a full marketing plan promoting the launch in early October, complete with TV ads, social posts, online video, out-of-home and shopper marketing, which will run for the full year.
KBS – which won the Superfries account earlier this year – will create the TV spots, Grip will handle digital elements, DACS will handle shopper marketing, UM will be on media and Hill + Knowlton will handle PR. Though the campaign is still being produced, Bawa says the messaging will be heavily focused on communicating not only the line's ingredients, but the ways in which it can help fill that gap between activities and full meals when hunger may strike.
While many food and CPG companies have been attempting to evolve with a growing demand for healthier food, McCain has been focusing more on the ways consumers can feel good about the food they eat. Campaigns for Superfries, for example, have tapped into foodie culture with mass campaigns and online recipes encouraging consumers to add adventurous toppings to the fries as part of a recipe. For Deep 'n Delicious cake, the company communicated the new ingredients post-relaunch, but then moved to focusing more on the emotional connection most consumers feel towards the iconic dessert..
"It's not so much about health, it's more about fresh and wholesome ingredients," Bawa says. "We don't have a desire to go into the health side. Our desire is to be a great-tasting product because that's the number one driver for our consumers. But they also have to feel good about what they're eating, so we're making sure that when they read the ingredients they aren't compromising and putting stuff in their body they shouldn't, just to get a product that tastes good."
The "It's All Good" approach has previously focused mostly on McCain's existing products, but Bawa says the launch of Marché represents the start of a new journey that will see the company launch more new and innovative products as a way to respond to current consumer needs – especially when it comes to snacking. That category has been growing to the point where it represents $2 billion in sales, but growth in frozen snacks have been flat.
"There hasn't been any innovation in the frozen food section for a long time," Bawa says. "We're part of that, we haven't really had much innovation and haven't communicated what we have done very well. This was an opportunity for us to bring in some consumer product innovation that also had a more broad appeal across the Canadian landscape, versus just focusing on kids and young families. Once we have this under the belt, we'll bring in more relevant products to satisfy more consumer needs."