A nuanced rebrand for Van Houtte
The brand's new look and campaign aim for more of a gourmet feel that celebrates the subtleties of good coffee.
Keurig Canada's Van Houtte brand has debuted a new look meant to position it as a gourmet option from a company that knows the "nuances" of roasting good coffee.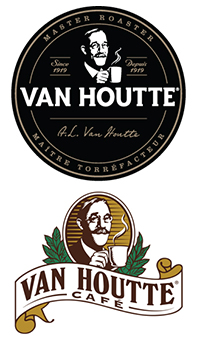 Developed by the marketing team at Keurig Canada with Montreal branding and design agency BrandBourg, the new logo is meant to maintain the reverence for the brand's near-100 year history, while the darker colours and more understated typeface are meant to give it a "gourmet" look that will stand out on increasingly-crowded shelves in the coffee aisle.

The new look will be used across the 50-plus varieties of Van Houtte coffee flavours in both coffee pods and bagged coffee formats. The new branding is already present on Keurig's e-commerce platform, and the new packaging – which combines matte and gloss finishes – began rolling out in retail last week. The full transition will take place over the coming weeks.

The rebranding is being supported with a national campaign, including a TV ad, point-of-sale and out-of-home in Toronto, Montreal and Vancouver, all of which supports the brand's new platform of appreciating the "subtle nuances" of its coffee.

A digital campaign will debut in the fall alongside a new website, which will feature a revamped "recipes" section and a new "inspiration" section to offer customers tips and advice on coffee-making.

Van Houtte's sister brand Green Mountain also rebranded following the parent company adopting the new Keurig Green Mountain name. It was handled by New York's Prophet and has since rolled out to Green Mountain-brand coffee products in Canada.

In the spring, Keurig Canada hired Caroline Losson to be its new VP of marketing. At the beginning of the year, Keurig added to its agency roster, selecting Vancouver's Idea Rebel to lead digital efforts across its brands and Montreal's Tuxedo to lead national campaigns for Van Houtte.