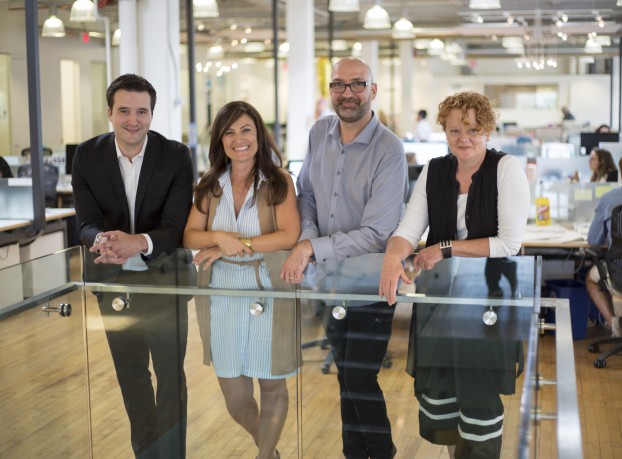 Pictured (left to right): Tyler Turnbull, Nancy Crimi-Lamanna, Jeff Hilts and Shelley Brown, FCB's chief strategy officer.
FCB has announced several changes to its leadership team in Canada.
Tyler Turnbull, CEO of FCB Toronto, has been promoted to CEO of FCB Canada, now managing operations and providing leadership for FCB's Canadian network, including FCB Toronto, FCB Montreal, FCB/Six (formerly Rivet), Segal Licensing and Fuel Advertising.
Tim Bowen, who was previously CEO, has been named chairman of FCB Canada, a new role. He is now tasked with with developing long-term client relationships and advancing FCB's corporate strategy in Canada. Being a small market here, that means growing across all areas to remain competitive, including creative work, data and analytics and content production at scale, he says.
Turnbull and Bowen both joined FCB in 2014. At that time, they took on a strategic plan to simplify, restructure and reinvigorate the group here, Bowen says. Essentially, it boiled down to the whole being greater than the sum of its parts, with the shop prioritizing hiring more collaborative staff among its divisions to build a nimble creative company, he says. That's proven successful, with both better creative work and new business wins, such as BMO last year.
Meanwhile, on the creative side at the shop, Nancy Crimi-Lamanna and Jeff Hilts have been promoted to co-chief creative officers of FCB Toronto, filling the shoes of Jon Flannery, who has been named EVP, executive creative director of FCB Chicago (Flannery joined FCB Toronto in 2014 as CCO from that office).
"Our creative product has been substantially better than it's ever been and I think that's a direct result of Jon's leadership," Turnbull says. Given that FCB does cross-border work, he'll still be actively working with the Canadian team, he adds.
For their part, Crimi-Lamanna and Hilts have contributed to some of FCB Toronto's most-awarded work including for the Ontario Tourism Marketing Partnership Corporation and Ritz. Crimi-Lamanna, a 26-year creative veteran, joined FCB last year from BBDO Toronto, while Hilts has worked at FCB for nearly 11 years, working on award-winning campaigns for PFLAG, Stella Artois, Kokanee Beer, Capital One, Mondelez and MacKenzie Financial, among others.
"What I love about them is the combination," Turnbull says. "They're very different thinkers and I think, together, they can generate very powerful creative platforms."
What's more, they've both shown strong leadership in building FCB's creative team, and promoting from within was a natural evolution for the shop, he says.