Holland Bloorview cooks up a conversation
The children's rehabilitation hospital looks to dispel stigma around disabilities with baked goods and stand-out creative.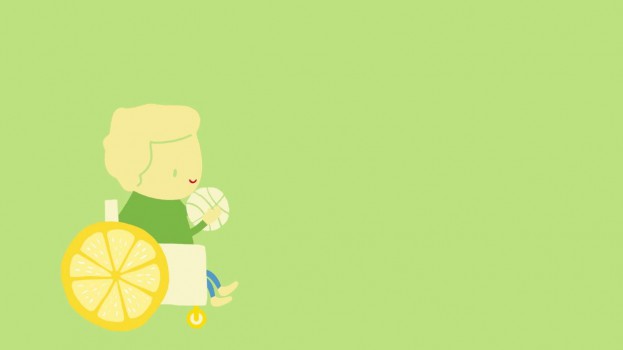 Holland Bloorview Kids Rehabilitation Hospital knows that the children they treat are often told, "when life gives you lemons, make lemonade," but its new campaign is trying to dispel the stigma around their disabilities and show people that a lemon is pretty nice on its own.

In a new video that will be airing on TV and digitally, an animated lemon is used as a constant image and as a symbol not of something that's a burden, but as something that is bright, cheery and full of possibilities. As part of "Baking Good," a lemon cart will be touring Toronto next week, with kids from Holland Bloorview helping to sell homemade lemon squares and engaging the public in conversations about childhood disabilities.

The campaign also features a behind-the-scenes video on the foundation's website showing the kids helping to bake the squares and make the pop-up happen, as well as print, OOH, radio and digital display ads. The website also features a schedule showing where the lemon cart will be appearing.

The pro-bono campaign was created by Havas Worldwide Canada, which was named the foundation's AOR in June, and supported with donated media from Rogers, Corus, Adapt Media, NewAd, Clear Channel and an online ad buy from Aber Group. Sandra Hawken, president and CEO of Holland Bloorview Foundation, says the agency will be providing $1 million of in-kind work over three campaigns.

Hawken says a great deal of consultation with the kids treated at Holland Bloorview and their families was done in the development of the campaign. The key insight that came out of those conversations was that even though the hospital itself was a "utopia" of acceptance and inclusion, the world outside the hospital was full of stigma around childhood disability. That stigma is commonly seen in the form of pity, with people in the children's lives using cliched phrases like, "when life gives you lemons, make lemonade."

"We wanted to challenge that and be provocative, but in a way that was fitting with a children's hospital," Hawkin says. "So it's playful and childlike, but it also challenges that saying and the thinking about what life must be like for these kids and their families. A lot of people in there lives will give them a lot of pity and assume they know what their lives are like, but there is a world of possibilities and opportunities for these kids, so we want to show what they're capable of, instead of what they're not."

Holland Bloorview is over 100 years old, but has had numerous name changes over the years and is located outside of Toronto's downtown, which Hawken says has resulted in a lack of awareness for the hospital and the work it does compared to the larger institutions in the city. Part of the goal of this campaign was to be deliberately different from the typical advertising around children's hospitals and similar institutions to not only drive awareness, but get conversations started about the work it does.

"They're pictures of really adorable or really ill kids with some kind of headline or really emotive music behind them. All of us have been doing that for years and they all have the same pull-on-your-heartstrings message," Hawken says, acknowledging that its advertising prior to this was guilty of conforming to this style as well. "It was beautiful creative and it might be the kind of thing that works for others, but they didn't work for us because they didn't get conversations going in the community about what we do."

Part of the reason conversation is so important is that one of the other effects stigma has is that people like to not think or talk about childhood disabilities, preferring to pretend like it doesn't exist.

"We wanted to be different so it could spark conversations because our families have told us that's what they want," Hawken says. "They want to showcase what makes their kids special and what they're capable of. It's true that these families don't have an easy go of it, but there are also a lot of amazing things about these kids, and a lot of them feel like their disability is part of what makes them who they are."

Other partners supporting the campaign include Polyester Studio Art & Motion Design; Keen Music, Voice & Interactive; and Vancouver illustrator Carson Ting of Chairman Ting Industries. The lemon squares Torontonians can get from the traveling lemon cart were provided by Liaison Culinary College and transportation is being provided by Jiffy.