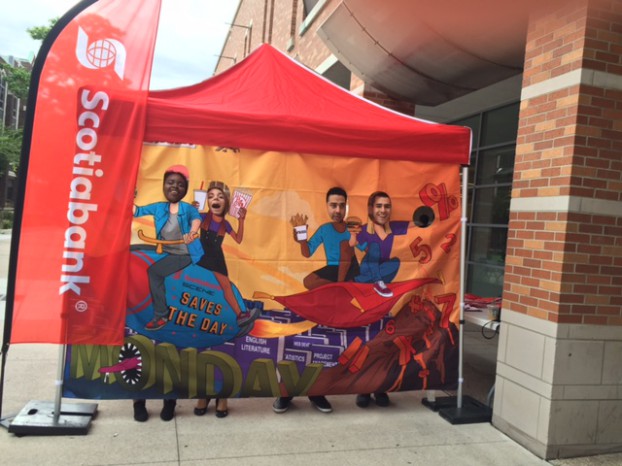 Pictured: A Scotiabank "Scene Saves the Day" booth outside the CAW Student Centre at the University of Windsor.
Scotiabank pitched post-secondary students this semester on its Scene rewards program, showing how it's suited to student life in the hopes that it would attract a group of potential customers making their own financial decisions for the first time.
The theme of this year's activation was "Scene Saves the Day," showing how the Scene portfolio of products could help students earn points towards the kinds of things they need most when they're off on their own for the first time and living on a student budget, like eating a non-ramen meal or getting a night out. By visiting the booths, students could get free popcorn, meal vouchers at Harvey's or, if they signed up for a Scene debit account, a selfie stick. The booths also featured branded photo walls so students could share content on social and get the word out to friends. Scotiabank staff at the booths also came from local branches students were likely to use once they signed up.
In addition to the booths, Scotiabank ran out-of-home ads on campus, as well as social content on Facebook, Instagram and Snapchat, promoting the Scene portfolio. The creative was focused on "student life moments," such as needing a break from studying, struggling to stay active or eating decent meals, and how rewards from Scene could help them with those problems.
Boom! Marketing and Narrative PR helped Scotiabank with the on-campus executions, with creative on the broader social campaign by Bensimon Byrne.
This is the fourth year Scotiabank has run Scene-related activations on campuses, and Clinton Braganza, the brand's SVP of Canadian marketing, says this year's program expanded to 60 colleges and universities across Canada. He adds that post-secondary students are a particularly important target for banks like Scotiabank.
"Prior to them going off to school, these young adults are likely dealing with their parents' financial institution," Braganza says. "This is an opportunity to give them some financial independence. They're making probably some of the most important decisions they've made in their lives up to that point. We believe if we give them that financial independence through our products, we could have customers for the rest of their lives. That's a very important decision for us, too, given how infrequently Canadians switch banks."
As part of its "You're Richer Than You Think" brand positioning, Braganza says that Scotiabank is looking to be a leader in the rewards space, with several programs like Scotia Reward, but he says the Scene program is best-suited for the student demographic.
"The Scene rewards are very relevant for this group because they tend to be much more entertainment-focused and have more active lifestyles," Braganza says.