Sears unveils 2.0 store
A look inside the new concept store that's meant to emphasize flexibility and easy access for shoppers.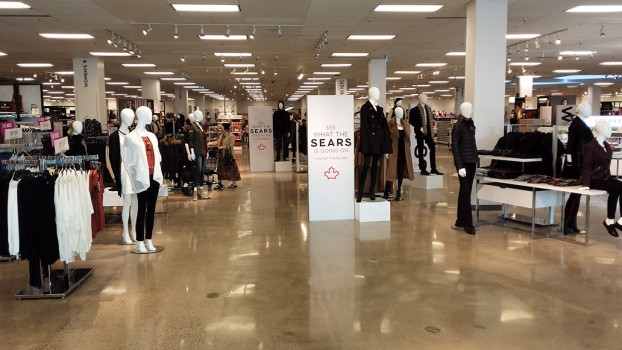 Sears has opened the doors on a new store concept dubbed "Sears 2.0″ it believes will bring increased flexibility and an improved customer experience to its locations across Canada.
The store, located just north of Toronto at CF Promenade in Thornhill, opened to the public yesterday. The store bears the company's new logo, and its visual style has been deployed across the store's signage and displays.
The "What The Sears" platform featured in the store's signage is meant to provoke curiosity about the changes and encourage shoppers to explore the new store. A "What The Sears" display was also located in the Promenade food court to encourage visits on launch day.
From the consumer experience perspective, ease of navigation and shopping are the primary goals. There is little in the way of walls and nearly all the fixtures and shelving are frames, helping to give a clear line of site from one side of the store to the other and making each department easy to find.
Simple signs on the fixtures emphasize the "essentials," Sears-branded basic products displayed with an emphasis on low prices and the benefits of the products. The carpets have also been removed, not only giving the stores a more contemporary look but getting rid of the aisles the old flooring created, encouraging shoppers to explore and move between sections more freely.
In the mattress section, each product has a headboard display that shows the features of each individual mattress, as well as photos of individuals, couples and families big and small to communicate which shopper each product is right for. From that department, there is clear line of sight to related products like bedding, sheets or other pieces of furniture and home decor that could be used to bring the look of a room together.
"The goal of the company is to have everything you need, for 75% of the country," says Brandon Stranzl, executive chairman of Sears Canada. "What are the items they want, what's the price they want and how do they want to buy it. This is us giving them that, while also stating, very clearly, what our value and quality standards are."
Overall, the stores are less cluttered, with an open area at the entrance giving a shoppers a place to stop and decide where to go next, with the departments themselves being more slimmed-down and putting most of the focus on a selection "top 100″ hero products.
Tablets also provide an "endless aisle" feature allowing customers to explore the retailer's product variety in a more in-depth way through its e-commerce platform (the recently overhauled platform and website — one of the main priorities of its Initium innovation lab — is currently being piloted in Alberta, and is only accessible in Ontario through these tablets).
Footwear has been converted to a "self-serve" model inspired by U.S. retailers like DSW, with a shoe perched on display that has every available size in boxes underneath. Sears has used a self-serve model in other locations, where it saw higher sales than in ones without it.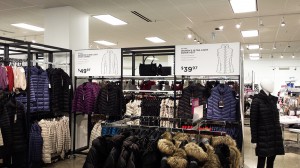 From a business perspective, flexibility has been built into the store's design. Very few of the fixtures are permanent, and can moved around the store to give emphasis or more space to a certain product or category – or to take it away from another – based on things like consumer insights, sales results or business priorities.

The signs on the fixtures are also easily changeable, while price displays on appliances can be switched out in response to daily price comparisons it does to ensure it has the lowest prices.

"In a lot of our locations, intimates were located near an entrance, but we have insight that suggested it be better suited in a corner location, which makes sense, because who would want to be looking at underwear in front of an entire mall," Stranzl says. "But maybe we're wrong, and what our customer views as essential might change from week to week. Everything is supposed to be modular so we can cater to customers and what they want."

Stranzl describes the concept as the company's "minimum viable product," a store that was able to be fully renovated within two months. He says the concept is still very much "in beta," but is meant to be a platform where it can build, test and learn the best shopping experience for its customers.

"There are still problems with this store that the customer can't see, and things we have to learn," he says. "But the idea is that instead of being in a room with concepts and guessing what will work, we are in market and seeing whether these things really do work. And we have the flexibility here to respond to those things."

Three other Sears stores are currently under renovation and are expected to re-open with the 2.0 concept before the end of the year. The company has begun to look at which locations will get a new treatment in 2017, some of which will have full renovations, while others will have certain elements installed over time. Stranzl says the company expects the concept to be in all of its stores nationally within a few years.

In Sears Canada's second quarter results, released earlier this month, the company reported a $91.6 million loss, with a total revenue decline of 15.6% and same-store sales decline of 5.5%. As part of ongoing cost-cutting, the company says it had cut $128 million in costs on its way to $155 million for the year as a whole.