Check it out: eOne's 'wicked walk'
The film company teamed up with SapientNitro to bring Blair Witch to life for Canadians.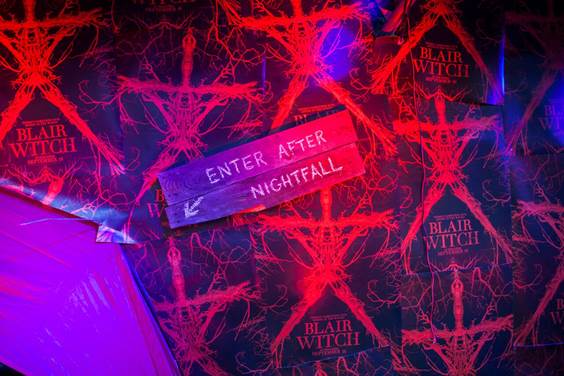 A lot has changed since 1999, but the creepy factor of being isolated in the woods still holds up.

Since the original The Blair Witch Project debuted pre-millennium, film audio has definitely been taken up a notch and SapientNitro used just that to help bring the movie's sequel to life for Entertainment One.

The agency and film distributor created an experiential set-up in Toronto ahead of  the Blair Witch release earlier this month, to encourage social chatter and excitement while also tapping into nostalgia for the original.

Using nine directional speakers, the activation creeped out passersby with sounds of cries for help and other terrifying audio before they entered a tent. While it was in the middle of the city, it used sound and lights for a visceral experience to bring Torontonians into the Maryland woods where a few documentary filmmakers could easily disappear.

The found footage aspect was also dialled up, with those brave enough to enter still getting a chance to share their exploits on Snapchat with two unique geofilters (one focused on the promotion of the film itself and another with a"Welcome to Burkittsville" filter, alluding to the movie's setting).

Overall, Canada contributed to 8.6% of North American box office share on opening weekend of the movie, higher than the 5% the country usually contributes for horror films, according to eOne. 

Check out the video of the experience (if you dare).