Brands of the Year 2016: Catering to the Drake traveller
How the brand is spreading Canadiana cool through its hotels, general stores and more.
Early on in the conversation with Drake General Store co-founder Carlo Colacci, the word "exclusive" is used to describe the quirky gift shop's offering. Just as quickly, it's walked back: not exclusive in that way.
When the store launched in 2008, the idea was to cater to the needs of Drake Hotel guests "in a way that's a little more Drake," Colacci says. "A little more creative, a little more exclusive." But in the sense that the products can't be found anywhere else, he explains: when a brand gets too big, it's out.
The tension around the idea of exclusivity is evident across the Drake brand, which includes two hotels, three restaurants, three stand-alone stores and a new catering business. It's also partly responsible for its success. "We're still a pretty small business," Colacci says. "I think our brand has grown more than our actual physical business at this point."
This outsize brand strength has paved the way for expansion and led to partnerships with bigger brands looking to engage with the Drake's audience of tastemakers. In addition to being "playful, irreverent and sophisticated," senior marketing manager for Drake Hotel Properties Rachel Yeager describes the brand's voice as "positive and inclusive, with a bit of an edge."
How the inclusivity and the edge interact has been important from the beginning. The building that houses the Drake Hotel first opened in 1890 as D.A. Small's hotel.
It became the Drake in 1949. Jeff Stober, who had recently sold his headhunting firm, purchased the dilapidated building in 2001 and reopened it in 2004, creating a boutique hotel renaissance in the city and helping transform the artsy west end neighbourhood into the city's trendiest. A gift shop was always part of the plan but didn't materialize until Colacci and co-founder Joyce Lo – who ran a pop-up beside the Drake Hotel for Shared, their line of locally made t-shirts – came on board in 2008.
The hotel's aesthetic developed organically from Stober's vision, honed obsessively over years of collecting souvenirs – postcards, newspaper clippings and the handmade dolls that greet every guest from the hotels' beds – as outlined in a recent Toronto Life profile.
The brand of quirky nostalgia caught on. Stober opened the Drake One Fifty restaurant in Toronto's Financial District in 2012. It spread to Prince Edward County, Ont. in 2014, with The Drake Devonshire, the main hotel's rustic cousin.  A new Drake Catering business launched in September. Meanwhile, the Queen West expansion continues. Stober owns four buildings east of the Drake that will be subsumed by the hotel in 2018, adding 35 rooms.
The Drake General Store has also outgrown its original confines. In July, it moved across the street from the hotel to a three-storey space (a building that once served as the presentation centre for condos that popped up around the Drake in the last decade) with a café, a barbershop and event space. When the hotel expansion is complete, it will move back into its renovated home. The store, which describes itself as part traditional hotel gift shop, part classic general store, part fl ea market stand and part museum shop, has seen revenue growth of 20-30% per year since it opened, says marketing manager Kate Chippindale.
Eight years after its launch, it has three product designers and two graphic designers that allow it to make and distribute its own stuff through the exclusive Drake General Store line. Though they only take up about 20% of the store's shelf space, their own products account for up to 80% of sales, depending on the time of year. The store's corporate team has grown from six people three years ago to 16. Its e-commerce launched in 2011 and makes up about 5% of sales.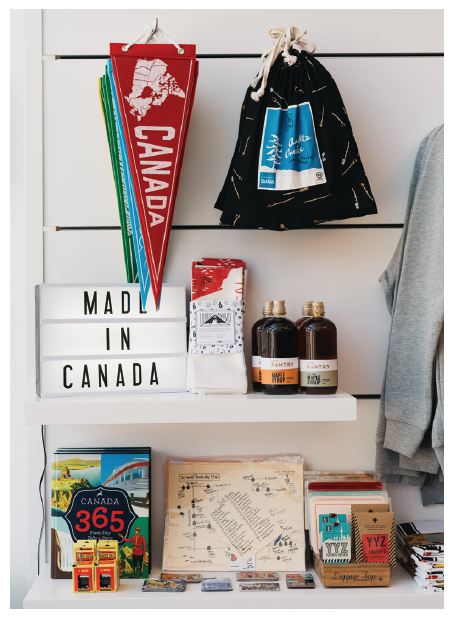 In addition to the flagship, the Drake has stand-alone stores at Yonge and Eglinton and at the Union Pearson Express Terminal in Toronto, as well as shops-within-shops in Hudson's Bay locations in Toronto, Vancouver and Ottawa. It has wholesale deals with other Hudson's Bay stores, as well as Urban Outfitters and Simons. It's also working on a partnership that would see its products in U.S. department store Lord and Taylor's in 2017.

The store is a showcase for its founders' love of well-crafted items that blend unabashed twee and subtle irony, sprinkled with nostalgia: apothecary items named for historic Canadian dates; not-quite-Blue Jays t-shirts designed by creative agency Red Lion; dining sets featuring Canadian landscapes that border on tourist kitsch; adult camp onesies. Colacci and Lo had no sales history, he says, so they bought items they liked without much evidence beyond their own guts about how they would sell.

"We would never buy anything that we didn't want but that we knew would sell really well. We want to make sure that we're really respecting the brand that we created," Colacci says. That's meant walking away from successful lines that became too accessible elsewhere.

This doesn't change when partnering with bigger brands, says Chippindale. To launch the new flagship, a New Balance boutique filled the second floor. But rather than carrying the same sneakers found on shoe racks across the city, the store secured pre-released models.

Uniqlo followed with a shop-in-a-shop for the two September weeks leading up to the Japanese clothier's first Canadian store opening at the Eaton Centre. Next up was an L.A.-themed takeover across the Drake's properties to coincide with TIFF. The store featured L.A. brands while the hotel hosted L.A. chef Neal Fraser as well as events with DJs from the city. The partnerships work, Chippindale says, because the Drake offers content creation, engaged followers and experiential space, while the store takes advantage of the larger brand's resources and broader audience.

With New Balance, it brought in Milos Raonic, the New Balance-sponsored tennis star from Thornhill, Ont., for a ping-pong event in the store's third-storey event space. The partnerships are a key part of the brand's marketing, which is all done in-house and without traditional ad buys, Chippindale says.

The Drake pays for some social posts but most of the efforts go into telling stories about the store's products and generating buzz, with the help of a dedicated network (the store has 25,000 email subscribers and almost 17,000 Instagram followers; the hotel's Instagram following is almost 23,000 strong, and it's approaching 70,000 on Twitter).

It's also "dabbled" in influencers, Chippindale says, but found they weren't really needed. "We're really lucky in that influencers often organically post our product. We don't have to invest a whole lot in that game in order to see the returns," she says. The Drake has built up its following because of the number of events it has to share with its audience, Yeager says. That audience is described internally as the "curious culture seeker," straddling demographic categories.

In another innovative collaboration for Father's Day this year, the Drake partnered with JP Wiser's in a campaign called "Fare + Provisions." The whisky brand was launching a new limited product, called Last Barrels, and enlisted the Drake's help. For the campaign, the Drake leveraged relationships across its assets, partnering with 10 chefs (five from Drake properties and five others through those connections) to create a cookbook of pantry staples using the new whisky as the hero ingredient. The store created a printed cookbook containing the recipes and chefs' stories, and hosted a launch party for Last Barrels.

It was a "whole package deal" for the whisky brand, Chippindale says, helping them target a different customer. "Some of these more traditional brands look to us to be content creators and offer something a little bit different that reaches a different audience and puts a different creative spin on things," Colacci says.

The partnerships are mutually beneficial, since an event like the Wiser's one also brings in people who may be unfamiliar with the Drake brand. "We put a lot of sweat equity into it and they provided the funds to help us elevate what we do from a marketing perspective, so I think it's win-win," he says.

"I wouldn't call it a profit centre but maybe one day – who knows?"

The Drake is continuing to use pop-ups as a safe way to experiment and test the viability of partnerships and markets. It had one in a Kit and Ace store in Muskoka last summer, and at Urban Outfitters during Toronto's Pride weekend.

The store is benefiting from a moment that makes it a good time to be in the Canadiana business. The nation's sesquicentennial in 2017 won't hurt. As brands of all kinds make use of the event for advertising and promotions, expect the Drake General Store to up its output while sticking to its usual wry sensibility. The brand has issued an open call on Etsy for Canada 150 products, with the winners to land on its shelves and online store.