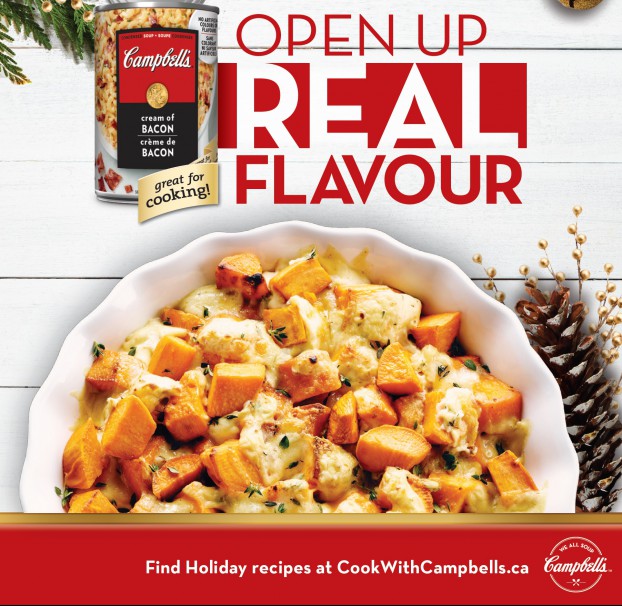 Campbell's is focusing this fall on the role of its condensed soups and broths, with a shopper program and mass campaign supporting new and existing flavours for cooking.
As of August, the company reformulated it's Great for Cooking condensed soups, which includes 19 varieties, to remove any added monosodium glutamate, a response to consumer demand (it has also committed to being BPA free in all canned products by mid-2017 and a company-wide initiative is underway in North America to eliminate use of artificial colours and flavours).
Along with that change, it added Roasted Red Pepper and Cream of Bacon to the Great for Cooking portfolio, along with no salt added versions of its popular Cream of Chicken and Cream of Mushroom condensed soups for meals and two new broth flavours, Mushroom and Pho.
This past summer, it also revamped its condensed soup portfolio's look. Research revealed some consumer confusion in finding the right variants, says Melissa Mendoza, senior brand manager for retail marketing at Campbell Canada. The package change, led by Shikatani Lacroix, adds a layer of differentiation between the condensed soups for meals and the Great for Cooking line, using white for the former and black for the latter, she says.
To further support the cooking products, the brand has national shopper marketing programs underway using the "Open up real flavour" name, centred on the insight that consumers often struggle to make dinners for their families that are both flavourful and that use "real food," Mendoza says.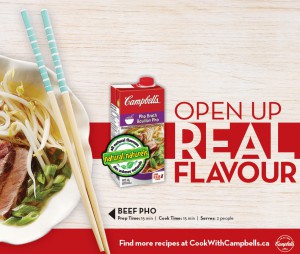 The goal is to penetrate the weeknight dinner occasion, driving both trial of new flavours and repeat purchases of its Great for Cooking soups and broths, particularly with millennial parents.
Beyond POS materials driving to its Cook with Campbell's website, the brand has account-specific programs aimed at showing that for every piece of fresh meat or vegetable Canadians buy, there is a complementary Campbell's product that can lead to a good meal recipe.
Following Thanksgiving, the brand also debuted a new mass campaign called "Win Dinner," under its "We All Soup" masterbrand platform, to continue to support the line. That work includes 30- and 15-second TV spots, programmatic video and social media driving to the Cook With Campbell's site and the brand's What's In My Food? website, centred on its recent ingredient changes.
Campbell's worked with TracyLocke Canada on shopper marketing, DDB on creative, OMD on media and Environics on PR.
Editor's note: This article originally referenced the removal of added monosodium glutamate in the Great for Cooking line as part of a company-wide initiative. Campbell's initiative is toward removing artificial colours and flavours.