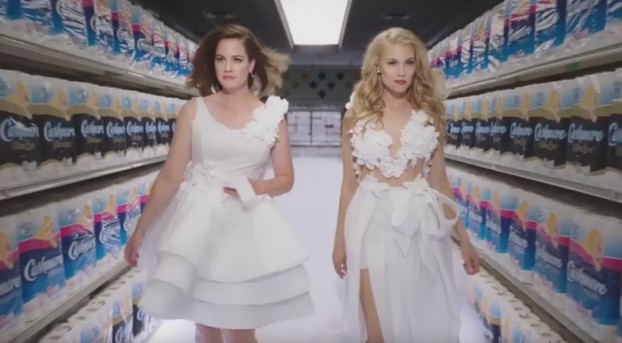 Kruger Products has debuted several new campaigns this fall, including boosting mass support for its White Cashmere Collection initiative.
The new work for the Cashmere brand is centred on its annual White Cashmere Collection, a partnership with Canadian fashion designers who create high fashion made from the bathroom tissue in support of the Canadian Breast Cancer Foundation.
This year, the brand has upped the profile of the White Cashmere Collection by integrating it more heavily into its mass campaign, led by John St. (October is Breast Cancer Awareness month).
Kruger has, in the past, used the White Cashmere event as part of its advertising. This year branched it out to include TV, while also running it on digital and in cinema, says Nancy Marcus,  corporate vice-president of marketing at Kruger Products.
Participation in the White Cashmere Collection fashion show event is limiting, so the brand wanted to take the consumer engagement that follows (particularly on Facebook) and branch out to capitalize on interest in the designs, she says. A portion of sales from the limited edition products go to the Canadian Breast Cancer Foundation.
In Quebec, a campaign focused on Cashmere's balance of softness and strength, is also in market. Led by Lg2, that campaign features a guy working hard when his phone rings and reveals him to be a lover of a softer kind of music.
Kruger very rarely adapts work for other markets and makes an effort to have specific creative for Quebec, Marcus notes.
Meanwhile, on the other side of the country, Kruger launched new work last month for Purex, which holds the number one position in the category in Western Canada.
That spot created by John St. features a family getting texts from an unseen young boy asking for Purex in a hurry, with his mom obliging and making the walk over to the bathroom at the nearby baseball field. The cheeky campaign is meant to leverage the brand's 90-year history in Western Canada and the loyalty many have for Purex.
"The ad itself is pretty brazen," Marcus says. "We're really demonstrating that consumers – in this case, this young boy – [are] not satisfied with anything, so it's Purex or nothing."
While Cashmere targets what Kruger calls its "active sophisticate," Purex has more of a family positioning, Marcus says.
Kruger also has a campaign underway for its Scotties brand, the second year under the "Tissue for Any Issue" creative in English Canada, also by John St. This year, it wanted to have a nod to current events, including using the U.S. presidential election and a baseball-themed ad.
Kruger works with Maxus on media.