Metro launches online shopping
The first phase of delivery begins in Quebec.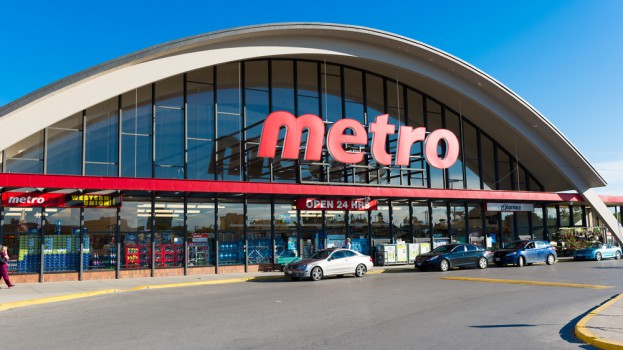 Metro is testing the online grocery shopping waters at three stores in Quebec before rolling out the service elsewhere.
First announced early this year, the service will be available at two locations in Montreal and one in Laval. After a customer makes purchases online, employees dedicated to online shopping in the store will choose the freshest available version of the product. The purchases are kept in a dedicated, climate-controlled area of the store to ensure freshness until they are given to the customer, who can either pick them up in-store or have them delivered to their home.
Described as "Phase I," delivery will initially be available to customers in a selected area east of Highway 15 on the Island of Montreal. The results of Phase I will dictate how Metro deploys online shopping elsewhere in Quebec and in Ontario.
The addition of online shopping is part of an ongoing digital strategy at Metro, which has included a revamped website and new apps on mobile devices and wearables.
Some form of online grocery shopping has become an increasingly popular initiative for retailers. Loblaw's and Walmart, as well as niche retailers like M&M Food Market, have "click-and-collect" options for fresh food at select locations. Sobey's began rolling out a delivery option to complement its own pick-up service earlier this year, while Longo's Grocery Gateway delivery service has operated since the late 1990s. Other retailers have partnered with third-party delivery services like Urbery or Instabuggy, while Amazon has been long rumoured to be planning a launch of its U.S. fresh food delivery service in Canada, and has been testing a pick-up option this year by partnering with local convenience stores.
According to this year's BrandSpark Canadian Shopper Survey, only 8% of Canadians have tried online shopping for groceries. While that may be due to the fact that most options are new or have limited availability, 25% said they would be "somewhat likely" to try an online shopping and delivery option from their regular store, 10% said they would be "very likely" and 9% said they definitely would. That's compared to 56% of respondents whose responses ranged from "somewhat unlikely" to "definitely would not."
One of the main deterrents to online grocery shopping, according to the survey, was concerns about the quality and freshness of the food, with 45% of those surveyed saying they would buy most groceries online, but not fresh products. Among those who said they wouldn't shop online for groceries, 72% said they wanted to see the food they buy, with 54% saying they are concerned about the quality of fresh food.
"We have made every effort to ensure that customers make no compromise with respect to the freshness of the products selected, that they find all the products they are looking for online as they would in-store and that they receive their order at the most convenient moment for them," said Marc Giroux, SVP at Metro, in a press release.