As the inaugural Strategy Awards approach, we're showing some of the shortlisted work by category. The awards will be handed out Nov. 8 as part of our Agency of the Year gala in Toronto. Check back that night for all the winners.
Nature Valley rediscovers the outdoors

Jury Prize – Research Mastery
Bronze – Turnaround Strategy
Young people are increasingly losing their connection to nature, opting instead for artificial experiences indoors. Research showed that this disconnection is not just a phenomenon associated with the current digital generation, it keeps happening with each passing generation.
Nature Valley and Cossette decided to shock consumers into a very important conversation about what would happen if we completely lost our connection to nature. An online film featured interviews with three generations from three different families and asked each to answer the same question: "As a kid, what did/do you like to do for fun?"
Each generation had less outdoorsy fun and adventure than its ancestors, and kids offered a jarring contrast by listing video games and mobile devices. The video prompted a conversation about whether the increasing disconnect was good or bad.
Cossette then created a park finder, which helped consumers find activities near their home. The agency also geo-targeted moms to promote natural events, like a meteor shower and blossom festivals, that would inspire them to go outside and enjoy their surroundings. Simultaneously, the brand ran 15 product spots on TV that prompted people to "Rediscover the Joy of Nature."
The video has been viewed 25 million times, and the campaign received coverage in media outlets from Time to Fast Company. In the end, Nature Valley saw a 35% increase in sales year-over-year.
Credits
Advertiser | Nature Valley
Agency | Cossette
Chief strategy officer | Jason Chaney
Director of strategy | Kevin McHugh
CCOs | Peter Ignazi, Carlos Moreno
CDs | Ed Lea, Sean Barlow
ACD, AD | Yusong Zhang
ACD, CW | Dhaval Bhatt
Agency producer | Colleen Floyd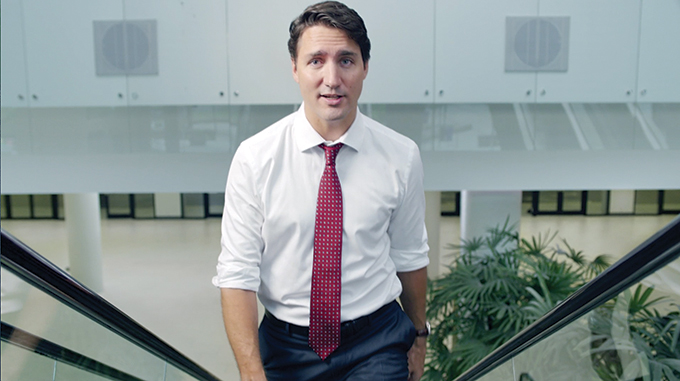 Liberal Party gets Canada ready for Justin Trudeau
Silver – Game Changer
Silver – Turnaround Strategy
Silver – Niche Strategy
Justin Trudeau started the 2015 Canadian federal election as the third-place candidate, trailing in every poll. Voter intent had been slipping for a year while the ruling Conservative Party's high reach and frequency campaign framed him as "Just Not Ready." When the writ was dropped, there was no time for a conventional campaign of incremental gains. Trudeau had 78 days to change public perceptions and show that he was more than ready to be prime minister.
Research showed Canadians liked Trudeau's plan for fairness, but they also said he just wasn't ready to be prime minister (thanks to the Conservative media assault).
So Bensimon Byrne created a campaign where "fairness" had to take a back seat to "readiness." The agency created communications that were atypical of political advertising. The campaign didn't rely on the negative politics of division. Instead, the message and tone were positive, with Trudeau responding to Harper's attack directly, telling Canadians exactly what he wasn't ready for.
"This is what's happening to millions of Canadians," Trudeau said in a follow-up video, as he walked up a down escalator. With this visual metaphor, the Liberal leader explained Keynesian economic theory, the need to invest to kick-start the economy, and why he stood apart from his opponents. The video received more than three million views.
In the final days, Harper started saying that Trudeau would cut a popular tax-saving program for seniors (which was not true). So the agency enlisted 94-year-old former Mississauga mayor, Hazel McCallion, to set the record straight in a humourous online spot. That video received more than four million organic views. It also turned around the seniors' vote with a massive 19-point swing in just one week.
The final piece of content was a rallying cry that conveyed positive and hopeful momentum. The word "Ready" was used in the spot to encapsulate the positive 78-day journey, with a nod to the negative attack ad that started it.
Trudeau won a 184-seat majority, the first time a third-place leader rose to the Prime Minister's Office and the largest-ever seat gain from one election to the next in Canada, adding 150 seats to the Liberal's 34. The party doubled its share of the popular vote.
Credits
Advertiser | The Liberal Party of Canada
Agency | Bensimon Byrne
Ovarian Cancer Canada fights back
Bronze – Turnaround Strategy
By the time ovarian cancer is detected, it's often too late to save a woman's life. With no screening test, vague symptoms and little understanding even in the medical world, it's been named "the silent killer," one that sadly takes five Canadian lives every day.
Ovarian Cancer Canada and Grey needed to get women to care about a disease they know nothing about, so that they would then talk to their doctors and each other about it.
The agency explored how to talk about ovaries in a way that was comfortable and culturally relevant, and not just clinical. Research showed that people weren't very comfortable with the term "ovaries." However, when talking about the male equivalent (gonads, or balls), people associate the term with courage, audacity and chutzpah. So what if women's ovaries are positioned as female "balls"? What if they represent the same bravery as their male counterparts? And the same bravery it takes to fight the fatal disease?
It takes grit, courage and strength to battle women's most fatal disease. It takes "Ladyballs."
Grey created a powerful spot that showed situations a modern woman might find herself in – such as a business meeting or a social gathering – where she was forced to make brave and bold decisions. The conversation then became, "Do you have the ladyballs to do something about ovarian cancer?"
To support the video, a series of print and digital ads showcased the faces of strong and assertive women.
With more than $9 million in donated media space, the campaign resulted in an average increase of 22 donor calls per week and a 118% increase in medical inquiries from women across the country. Social engagement increased by 220% and calls to OCC regional offices went up by 35%.
Credits  
Advertiser | Ovarian Cancer Canada
Agency | Grey
Strategy | Lauren Scapillati, Andrew Carty
CCO | Patrick Scissons
ADs | Marissa Mastenbroek, Lisa Chen-Wing, Mark Mason, Perle Arteta, Rob Trickey
Writer | Sue Kohm