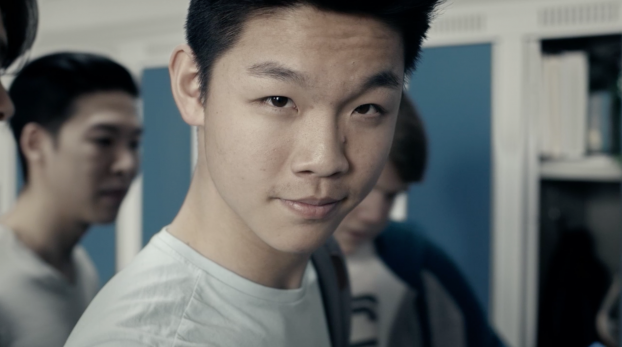 As the inaugural Strategy Awards approach, we're showing some of the shortlisted work by category. The awards will be handed out Nov. 8 as part of our Agency of the Year gala in Toronto. And in case you missed them, check out Part 1 (Turnaround Strategy) and Part 2 (Connection Strategy) of the shortlist series.
Ontario Women's Directorate takes action
Grand Prix Winner
Gold – Cause/Public Service
Silver – Game Changer 
Gold – Creative Catalyst : Brent Nelsen, Tahir Ahmad & Garrett Olexiuk
Sexual violence and harassment against women is typically ignored, yet it is shockingly prevalent in our society: 67% of Canadians personally know someone who has been sexually or physically assaulted.
Assault can come in many forms, such as an uninvited touch: a neck massage or squeezing of the leg. It can also take place when someone has had too much to drink and didn't say "no" to sexual advances.
An Ipsos Reid study found many Ontarians perceive these actions as a "grey area," prompting the Ontario Government to launch a plan called "It's Never Okay: An Action Plan to Stop Sexual Violence and Harassment."
The plan included a provocative advertising campaign for the Ontario Women's Directorate that aimed to remove the ambiguity around what constitutes sexual harassment and help people understand when they should intervene. It was also meant to encourage Ontarians to speak out.
The key insight was that: "If you're not helping the victim, you're helping the abuser."
While most Canadians believe sexual assault and harassment of any kind is unacceptable, many believe they could be doing more or are unsure when and how to get involved. Only 37% of respondents said they would actually take action and get involved when witnessing violence or harassment.
People often avoid helping because they aren't sure if what they're witnessing is in fact sexual harassment or violence, or how to intervene. This uncertainty and inaction increases the likelihood that the perpetrator will repeat their behaviour. If every bystander actually spoke up, there could be a societal tipping point that could change cultural and behavioural norms.
Rather than focusing on the plight of the victim, as previous campaigns have done, the Ontario Women's Directorate and Leo Burnett decided to empower witnesses to act. The approach was to directly target bystanders – the largest group – to show that doing nothing was actually aiding the perpetrator and perpetuating the behaviour.
The integrated campaign maximized awareness and inspired conversation through provocative TV, contextual print ads and social media.
The TV portion of the campaign launched in March 2015 with a spot called "Thank You," depicting "grey area" scenarios where perpetrators thanked the viewer for not getting involved, highlighting the culpability of the bystander.
The spot then re-aired after the government's action plan announcement but with a different ending – in this spot, the victims thanked the viewer for saying something or getting help.
Print advertisements were placed in bars, near college campuses, and adapted for both the general population and the LGBTQ community. The print ads were translated into 23 languages and picked up by more than 80 publications globally.
The creative also included the hashtag #WhoWillYouHelp to drive organic reach, conversation and participation through social media. In the end, the hashtag reached 85 million people on Twitter.
Post-campaign research indicated that #WhoWillYouHelp significantly impacted public opinion toward sexual assault, violence and harassment.
There has been a notable strengthening of understanding and attitude about intervening when witnessing sexual harassment amongst Ontarians who saw the ads (60% versus 30% pre-campaign). The gap is narrowing for certain acts previously considered a "grey area" – for example, 81% (up from 71%) now consider it to be sexual assault when "someone is physically active with another who is very intoxicated." In addition, 58% now say "I have an obligation to intervene if I witness sexual harassment," versus 37% before the campaign.
Credits
Advertiser: Ontario Women's Directorate
Agency: Leo Burnett Toronto
CCO: Judy John
EVP, chief strategy officer: Brent Nelsen
VP, group planning director: Tahir Ahmad
Strategic Planner: Garrett Olexiuk
CDs: Judy John, Lisa Greenberg
Group CDs: Kelly Zettel
Copywriter: Marty Hoefkes
Art director: Mike Morelli

This sweater is so gay (and that's OK)
Silver – Cause/Public Service
Bronze – Challenger Strategy
The marginalization of Lesbian, Gay, Bisexual and Transgender (LGBT) youth is a society-wide problem. Everywhere, from mainstream media to the classroom to the workplace, homophobia leads to painful forms of discrimination. At its mildest, this discrimination can leave LGBT people feeling like outsiders. At its worst, it can lead to mental distress, physical assaults, and even thoughts of suicide.
Acceptance of those who identify as LGBT starts when people have a deeper understanding of how offensive the misuse of terms like "so gay" can be. Many people have used the word "gay" to describe something in a negative way (for example, "That movie was so gay" or "Those shoes are so gay").
The Canadian Centre for Gender & Sexual Diversity (CCGSD) wanted to change this behaviour and use the widespread misuse of "gay" to its advantage. To get the public to think about how psychologically damaging that language can be on gay people (and gay youth in particular) the CCGSD set out to show how silly calling things "gay" really is, and ultimately get people to use it the right way.
Working with Saatchi & Saatchi, CCGSD created the world's first and truly gay object: the "Gay Sweater." The jumper was made entirely of human hair donated by gay men and women. The entire process was filmed and used in an online video.
The "Gay Sweater" launched during Toronto Fashion Week with the hashtag #thegaysweater. The organization worked with influencers both inside and outside the gay community to spread the word about the project. All of the campaign elements were housed on a microsite, where the public could watch films about how the sweater was made, the meaning of the word "gay" and how damaging its misuse can be. The site also included downloadable education packages on gender diversity for teachers to use.
The "Gay Sweater" received media coverage worldwide, generating over $1.1 million in earned media (more than five times the initial goal), and over 165 million impressions in the first week (more than six times the initial goal) – including 45 million mainstream media impressions in the first three days. These mainstream media mentions led to a quality score of 94% (versus the initial goal of 75%).
The fact that #TheGaySweater generated nearly 16 million impressions on Twitter and more than six million on Facebook indicates the message was received.
Credits
Advertiser: The Canadian Centre for Gender & Sexual Diversity (CCGSD)
Agency: Saatchi & Saatchi
Executive Creative Director: Brian Sheppard
Group Creative Directors: Matt Antonello, Joel Arbez
Art Directors: Joel Arbez, Rachel Kennedy
Copywriters: Matt Antonello, Shauna Roe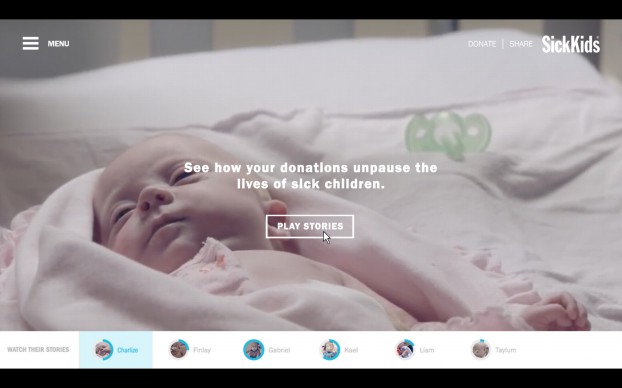 Unpausing SickKids' lives
Silver – Cause/Public Service
Last year, SickKids created 45 stories about 45 kids over 45 days for its "Better Tomorrows" campaign. Cossette was asked to build on that campaign with very little budget and drive direct donations.
Millennials are more likely to donate if they believe that their donation will have a direct impact. They also don't respond well to delayed gratification and require immediate response to their actions. So, the agency decided to leverage the content in a way that potential donors could affect the children's story, or the outcome of their story, immediately.
When a child enters a hospital, it's as if their life is put on pause: birthdays, recess, hanging out at home – everything comes to a standstill.
For the "Life Unpaused" campaign, the foundation and Cossette revisited six of the patients from the prior year's videos and added new endings depicting their current state of health. Once the video hit a critical point in the narrative, it would pause with a message asking viewers to donate to unpause the child's life and see how the kid is doing today. As they donated online, their name was added to the video timeline, registering the individual's donation exactly when they made it.
Each video had a target number of donations. Once that target was hit, the video was unpaused and released via social media.
The campaign increased online donations by 370% versus last year's campaign, and all six stories were unlocked in five weeks. The foundation tracked a total of 2.7 million video views and the campaign garnered 74.5 million media impressions.
Credits
Advertiser: SickKids Foundation
Agency: Cossette
Chief strategy officer: Jason Chaney
Director Strategy: Kevin McHugh
VP, product and technology strategy: Joe Dee
VP, experience strategist: Tara O'Doherty
CCO: Carlos Moreno, Peter Ignazi Associate
CD: Jamie Cordwell
AD: Jessica Wong CW: Darrel Knight