Frank + Oak steps up
The retailer zeroes in on its message of ambition and risk-taking in a new mass campaign.
Frank + Oak is reinforcing its commitment to being a brand that encourages bravery and ambition in customers' day-to-day life in its latest brand campaign.
In the video leading the campaign, young people are encouraged to shut out their fears and "step up" to achieve their goals, whether they are personal or professional. In addition to the video, the "Step Up" campaign includes ads in out-of-home, social and retail settings in both Canada and the U.S., as well as a full takeover of Bedford Station in Brooklyn, one of New York's busy subway stations.
Frank + Oak worked with the Barkas Collective to create the campaign. This is the first time the retailer has worked with the creative and design studio, which has offices in Montreal, Copenhagen and Stockholm. Frank + Oak rarely works with creative agencies, typically doing most of its work in-house or with freelancers, but Eric Alper, CMO at Frank + Oak, says the company was looking to bring in a "like-minded" external partner for support on this campaign, as it is currently in the midst of several launches.
Ambition has been a major part of Frank + Oak's brand over the years, which it primarily communicated through branded content pieces spotlighting entrepreneurs and self-starting artists in videos, blog posts, photo spreads and magazines.
Earlier this year, the company began to branch out and featured photographer Jayscale in a brand film that was pushed through social and online direct channels. However, this is the first time the company has really zeroed-in on ambition in a broad, above-the-line campaign not based on interviews with specific entrepreneurs or artists.
"It's always been important to us, but we never did the job of sharing that with people in an emotive way and told people what we stood for in one coherent campaign," Alper says. "It's also saying that the entrepreneurial spirit is just about business. You could be an artist or a scientist. You could be transforming things and taking risks in your personal relationships. That's what we value and want to inspire in others."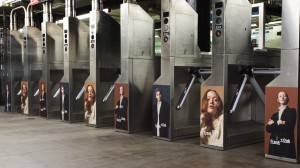 Frank + Oak's target, as it has been since the company launched, is millennials. "Now, millennials are out of college, in some cases for a few years, and they're out in the world deciding the types of people they want to be. So it's important for us to re-assert our connection with them in a very emotive way," Alper says. "They know what they want to do but fear taking the next step, because taking real responsibility and real commitments doesn't sound as easy as it used to. And everything we do is based on advising our customers on every aspect of their lives, even beyond fashion."

Being an advisor to customers for things above and beyond style has been a major part of Frank + Oak's positioning around being a lifestyle brand. That has been done through its editorial content throughout the years, or through more recent initiatives like the 50/50 Founders Fund.

Alper adds that the main insight behind "Step Up" is more generational as opposed to being split down gender lines, and is equally applicable to Frank + Oak's new prospective female consumer (having launched women's wear collections earlier this year).

Frank + Oak has also been experimenting with more light-hearted, tonge-in-cheek ads recently, but Alper says that kind of tone makes sense for ads and content that is more product- and offer-focused.

"I would say that our tone of voice has always been playful and witty with a purpose," Alper says. "We're leaning into our more gritty and earnest side here, but it's not necessarily a dominant tone of voice you'll hear from us all the time. In different contexts humans use different emotions, and we want our brand to be as human as possible, so you'll continue to see intelligent wit here and there, where it makes sense."