Giving an old brand a Boost
The nutritional drink repositioned its brand by targeting the active boomer.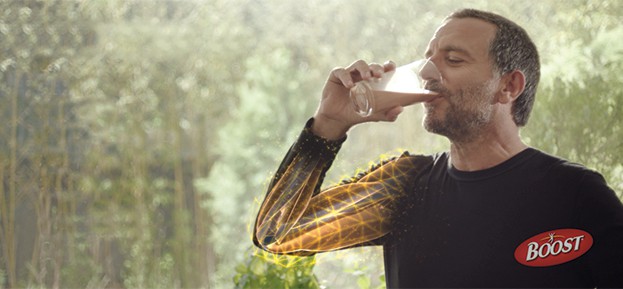 Lately, more brands targeting older consumers are ditching the walkers, slippers and high-waisted pants and depicting a younger-spirited, healthier consumer. Boost has joined that club.

Two years ago, the Nestlé energy drink was sold in a bland burgundy package, marketed to the over-80 crowd and commonly associated with hospitals. Its chief competitor, Ensure, was gaining market share through aggressive discounting.

But Nestlé saw an opportunity in a new kind of aging person: the active boomer, focused on aging well, entering a new stage of life with an empty nest and money in the bank. The brand's repositioning began in 2014.

"The way we were talking to an older or aging consumer was pretty out of date," says Ryan Hughes, the product's marketing manager. "We all had this perception of people retiring, joining walking clubs, going to the malls early in the morning, going down to Florida. The reality is that's not a 55- or 60-year-old consumer today. There are people out there running marathons in their late 70s."

To reposition itself with lifestyle messaging, the brand moved from showing the problem to creative that skipped ahead to the solution, says Rodrigo Mendes, director of consumer care. Where previous campaigns showed someone struggling to eat properly or overcome an ailment, the new creative has focused on healthy, active consumers.

The first creative launched in June 2015, with spots featuring active boomers – the owner of a landscaping business; a couple travelling the world; people paddle boarding, bowling, riding roller coasters with grandchildren. OneMethod, which took over the account in 2014, handled the creative, with Group M on media and Environics on PR.

Boost saw 3% growth in the second half of that year, and 10% growth so far in 2016. The creative has also contributed to a 110% increase in purchase intent, and was picked up for use in U.S. and European markets.

The brand relaunched its Boost High Protein product in September using an integrated campaign, with the knowledge that protein is a top concern for older people. Next year it will release a new protein powder, Just Protein, with heavy investment in another 360-degree campaign.