McDonald's creates a battle of the burgers
The QSR uses its self-serve kiosks to get customers to settle a rivalry between Montreal Canadiens teammates.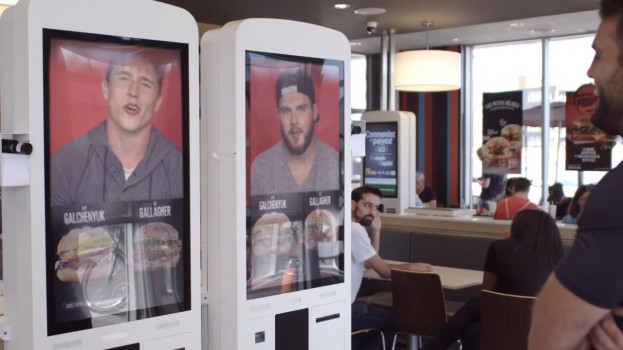 McDonald's Canada has started a burger-based rivalry between teammates, turning to the public to help them settle it.

In September, before the start of the NHL season, McDonald's Canada and Cossette released a TV spot showing Montreal Canadiens players Brendan Gallagher and Alex Galchenyuk competing with each other by using the restaurant chain's new self-order kiosks to create the best burger. Both of the burgers, as well as ones named after players Max Pacioretty and Jeff Petry, were made available for order to restaurant visitors.

To follow up on the spot, two self-order screens in a Quebec McDonald's location gave customers a choice between Gallagher's and Galchyenyuk's burgers. After making their selection, both players showed up on the screens, via live camera feed, with the winner congratulating the customer for their choice and while also mocking their teammate.

The video showing the stunt will air on TV and be pushed through digital channels. This phase of the campaign, which began yesterday and runs until Dec. 5, is being extended with print ads, as well as digital out-of-home signage that shows the popularity of each burger in real-time. Fans can also use a hashtag (either "#teamgallagher" or "#teamgalchenyukpick") to pick their side on social.

In a press release, Carl Pichette, eastern marketing manager for McDonald's Canada, said the "McPlayer" campaigns featuring NHL stars have been an effective way for the chain to get closer to Quebecers by tapping into their sense of pride around hockey. Those campaigns have included Canadiens players endorsing a new poutine offering or going undercover to hand out a burger named after themselves. And it hasn't just been Habs players: earlier this year, fans were given a free Big Mac if they gave a hug to Zdeno Chara, captain of hated rivals the Boston Bruins.

The self-serve kiosks – announced last year and currently rolling out nationally as part of an effort to "modernize" the customer experience in-restaurant – have also been a focal point for the restaurant chain. A campaign earlier this year saw McDonald's and Cossette produce a personalized commercial every time a customer created a customized burger using the kiosks, doing so in the 10 minutes it takes staff to make the burger.