The UX shift
Consumers are defining brands through every interaction. Designing experiences that cater to their needs is more important than ever.
This article is appears in the November issue of strategy
It can be difficult to think of the term "user experience" without also thinking of "user interface," its partner in the "UX/UI" combination. It's mostly been a techie phrase, describing the way people interact with a mobile or web platform.
But that perspective has obscured the traditional definition of user experience design as a practice, which is to ensure every interaction users have with a brand is designed to cater to their needs.
"Brand experiences are defined now by your interactions with them," says Derek Vaz, group director of experience design at Huge Toronto, a digital agency that does a great deal of work in UX. Advertising isn't the only thing that establishes what a brand stands for anymore.
"It's how easy it is to book a flight, or how easy it is to return a product to a store when you bought it online," he says. "All of those little things really define a brand. There's a misnomer of UX only being about designing the interaction with an interface or device, but that's just one facet of it. It's looking at what you're capable of as an organization, what people believe you can do as a brand and what they need that isn't being fulfilled anywhere else."
Some companies – like Clearly, GoodLife and Tangerine – have found that focusing on user needs in certain interactions can also be an effective way to solve business challenges.
"Reimagining the creation of products and services holistically and with the user's needs at the centre has always been the definition of UX design," Vaz says. While the tech space used to be the easiest place to apply that kind of thinking, the concept is coming up in everything now, he says.
Adhering to that definition of user experience is part of the reason online retailers like Frank + Oak, Indochino and Clearly – which established brand identities and customer bases through digital experiences – are investing heavily in bricks-and-mortar locations. It gives them the opportunity to connect with consumers on a more personal level.
For example, earlier this year, Huge worked with online eyewear retailer Clearly to revamp its e-commerce site, which had been purely transactional. But looking at customer behaviour in its new retail environments revealed that there were a range of consumer needs that weren't being fulfilled by the site, like seeing how glasses look when worn, finding gifts or the peace of mind of getting frames fitted by a professional.
Part of the redesign is MyFit, a setting customers can toggle on or off while browsing. When it's turned on, the site helps consumers find accurate eyewear measurements (the little numbers inside the frame's arm) on an existing pair of frames, which are then used to filters search results.
A challenge all online eyewear sites have faced has been eye doctors warning consumers that products purchased online can potentially be harmful to a person's health and eyesight if frames aren't properly measured, something a service like MyFit begins to address.
"A marketer's dream is for their brand to be in every part of a consumer's life," Vaz says. "But our role as UX practitioners is to lean back, take a view of the market and what a brand is capable of, and then single out the exact places where it's most appropriate and most valuable for a brand to play a role."
A UX approach can be especially effective when one of those needs aligns with an ongoing business challenge. As the leading chain of fitness clubs in the country, GoodLife Fitness is built around providing thousands of Canadians an experience that will help them live a healthy life. The biggest hurdle to that is helping its members find the motivation to stick to their fitness routine at the club.
Melissa Maloney, senior divisional manager of operations at GoodLife, says the company addresses this in numerous ways, like having new members commit to a series of meetings to set fitness goals, encouraging them to do personal training sessions or participate in group fitness classes, which have resulted in higher retention rates.
"People who feel connected to the club are more likely to stay," Maloney says. "You don't get a personal connection to a treadmill, so any tool we have that can create a connection is going to improve the experience and make people want to stay a member for longer."
To that end, GoodLife partnered with fitness tech company MyZone in the fall, giving members exclusive access to the MyZone MZ-3 fitness tracker. The device is similar to other fitness trackers – measuring things like heart rate and calorie burn – but once that data is sent to the MyZone app, it is turned into an "effort score" relative to their own fitness levels and displayed on screens located throughout the club. Using effort points puts all participants doing different exercises on an even playing field, which makes the MyZone experience more accessible – a key element of GoodLife's brand promise – and prevents members from getting discouraged if they fail to measure up to more experienced users.
MyZone users can use their workouts to reach new fitness goals and accumulate points (whether they are working out in the gym or somewhere else) that contribute to a ranking, which can be shared on an Instagram-like social feed (complete with the ability to add photos, as well as like and comment) or in a group with friends. Users who reach certain point levels can also be entered into contests that GoodLife launched in October and November.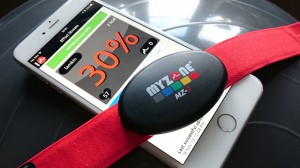 "Some people need things [like a challenge] that appeal to their self-esteem to motivate them," says Emmett Williams, co-founder and president of MyZone. "For others, it'll come from the social feed, which is more personal to them. In either case, there's a sense of community and belonging, of people seeing how you are doing and using that to push yourself."
MyZone is still new to Canada but has over 3,000 partner gyms in other markets throughout the world. A survey by one partner in the U.K. showed users who were given a MyZone tracker added an average of three months onto their memberships, while a club in New Jersey found users who went to the gym four times or less per month started going 11 times once they used MyZone.
Tracking data through the MyZone app extends the GoodLife brand outside of the fitness club environment for the first time, connecting members with the brand when they go for a jog outside or exercise elsewhere.
"There's an added bonus if we can help get members to live that kind of lifestyle when they're outside our four walls, especially if we use our rewards and community to motivate them to do it," Maloney says.
Thinking in a user-centric way also paid dividends for Tangerine. A direct bank founded in the 1990s around the idea of not having branches was completely unfamiliar to consumers used to doing their banking in person. But today, the Scotiabank-owned Tangerine uses the benefits of being online-only to address two of the most common pain points in banking, offering lower fees due to low overhead and accessibility at all hours by phone, email or chat.
While lower overhead helps Tangerine offer lower fees, it also means it isn't able to offer face-to-face advice for sometimes complicated financial products.
Peter Aceto, president and CEO of Tangerine, says it has addressed this barrier by making interactions with the bank simple and instilling confidence through things like "Digital Onboarding," which launched in July.
Customers can now sign up within minutes through digital identification methods like e-signatures. This is not only more convenient compared to the time-consuming processes and paperwork new customers previously had to go through, but it also reminds them of Tangerine's security measures. The launch of a revamped mobile app earlier this year brought a secure chat platform, as well as a host of new security features, including using biometrics like fingerprints, retinal scanning, or voice recognition to sign in. Staff in its service centre are also available for consultation at any hour.
"If you want to create an experience for people that makes them feel confident in the decision they have to make, you've got to make your products and processes simple and easy," Aceto says. "That's still true, but it's also not good enough anymore. Now we've also got to provide an experience that is engaging and smart."
Beyond having best-in-class security measures, these methods are part of what makes the experience of using a digital bank enjoyable, he says. According to a recent study by Google and Starcom, that's what companies investing in fintech should be striving for. It found that some kind of emotional connection was required to drive fintech's long-term adoption, instead of being something users try once for the novelty.
"People don't have time to waste, and they perceive changing banks or getting new products as being difficult," Aceto says. "We've been showing them that it isn't, and when you do that right, the experience is not just easy, but engaging and fun."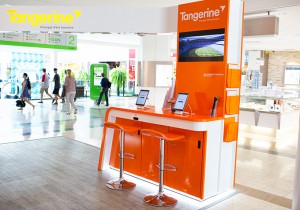 The company launched a new innovation centre in February where it has been experimenting with things like robots that instantly recognize a user's voice to interact with them and give them information on their accounts, as well as video chat that puts a human face to its service centre. Aceto says we're on the edge of a "tipping point."

"Canadians are telling us they are willing to do more with a bank that has no branches," he says. "Maybe not everything, but more every day, so long as we keep using our tech and relationships and trust to create these experiences."

To make banking with Tangerine as simple as possible, it only offers one version of each of its products, instead of multiple versions with different fee structures like its competitors, something Vaz points to as an example of how UX thinking can permeate every element of a brand's business model.

He adds that applying UX thinking to marketing, communications and product design has trickled upwards and become infused in things like management consulting and business organization, as well as ensuring internal systems like customer service, inventory management and e-commerce are built around the customer's needs.

Before user-centric companies like Apple became market leaders, Vaz says there was a degree of "empathy" from consumers, who might expect some disconnect between a large company's different departments, or that they wouldn't be able to return an online purchase in-store, for example. Now the entire company and all of its departments need to be organized around the user, their needs and the market forces that are influencing them.

"The emphasis has been down at the interaction level between humans and a product but that same philosophy applies to a systematic level, like how users are shopping in store or how they react to certain kinds of messaging," Vaz says. "Sometimes you just need to listen to consumer feedback to do that. But sometimes you need to dig a bit deeper to have a full view, and think if there's something really foundational about the way your company is operating that can be changed or utilized to meet that need and solve that problem."