Check it out: 'Un petito' taste of Spain
Wine brand Pasico indulges Quebecers' thirst for Spanish flavour, even if they can't quite speak the language.
Quebec wine producer Vins Balthazard has launched its first campaign for its Spanish Pasico brand, and it's not letting a poor grasp of the language keep people from adding some Spanish flair to their night.
In the spots, couples attempt to add a bit of excitement to their meal by describing it to each other in Spanish – or what they think is Spanish. All they are really doing is adding new vowels to end of French words – "savoureux" becomes "savoroso," "fromage" becomes "fromaga" and "cornichon" becomes "cornichonana."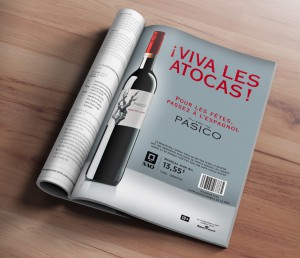 The campaign was led by Montreal's Bob Agence. The TV spots have rolled out on Radio-Canada and V Télé, and the print in ads are in Ricardo magazine and digitally on La Presse+. The print and digital ads also mix French and Spanish with headlines like "Viva la Atocas" (a play on "atacas," the French word for cranberry).

This is the first campaign for Pasico, a brand owned by Vins Balthazard, which has just been made available at SAQ stores in Quebec. The concept behind the campaign is that if Quebecers can't show people they are entertaining how adventurous and well-traveled they are by speaking Spanish, they can do so with Pasico, which comes from the southern region of Spain.