Cossette is the best at CMA Awards
The shop took top honours, while Leo Burnett's Judy John became the first agency exec to win Marketer of the Year.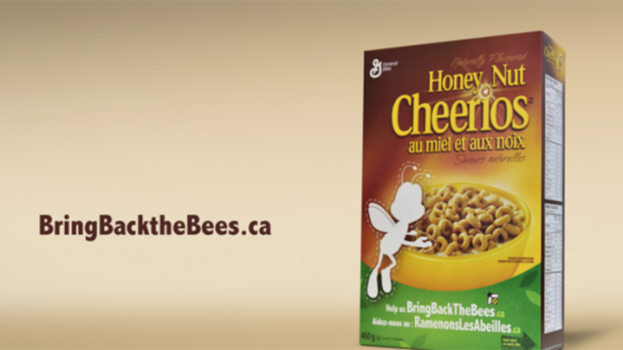 Canada's ad agencies had much to celebrate at the Canadian Marketing Association Awards on Friday.
Following a standing ovation from the crowd, the Marketer of the Year award was given to Judy John, CEO of Leo Burnett Canada and CCO of Leo Burnett North America, the first time the honour went to someone from an ad agency. In addition to campaigns for the agency's Canadian clients, John was recognized for helping to turn Leo Burnett Canada into a global agency through its international work on brands including Always, Gain and Amazon, as well as her recent promotion to lead Leo's creative across North America.
The Best of the Best award was given to Cossette and Veritas for their work with General Mills Canada on the "Bring Back the Bees" campaign for Honey Nut Cheerios. The campaign also earned both agencies a Gold in the Integrated category, while Cossette added a Gold in Advertising and a Silver in Digital, with Veritas earning another Gold in Community Engagement.
Overall, Cossette received the most awards at the gala, picking up an additional five Golds for SickKids' "Life Unpaused" campaign, as well as wins for McDonald's Canada and SAQ.
Leo Burnett's strong showing at the gala included 11 awards for its work with Always, Ikea, TD and Raising the Roof.
The full list of winning agencies can be found below or on the CMA website.
Cossette: 13
Best of the Best
General Mills Canada (Honey Nut Cheerios), "Bring Back the Bees" (with Veritas)
Gold: 7
General Mills Canada (Honey Nut Cheerios), "Bring Back the Bees": Integrated (with Veritas), Advertising
SickKids Foundation, "Life Unpaused": Digital, Direct Engagement, Experiential and Innovative Media, Integrated, Pro Bono
Silver: 4
General Mills Canada (Honey Nut Cheerios), "Bring Back the Bees": Digital
McDonald's Canada, "The Secret Secret Menu Challenge": Community Engagement, Experiential and Innovative Media
SAQ, "SAQ Inspire": Direct Engagement
Bronze: 1
McDonald's Canada, "Max in Boston": Promotion/Shopper Marketing
Leo Burnett Toronto: 11
Gold: 3
LCBO, "#CardOrNot": Community Engagement, Integrated
P&G (Always), "Unstoppable": Community Engagement
Silver: 4
Ikea Canada, "Explore the Great Indoors": Advertising, Promotion/Shopper Marketing
Ikea Canada, "Pick-up and Order Point Hyperlapse": Digital
P&G (Always), "Unstoppable": Digital
Bronze: 4
P&G (Always), "Unstoppable": Integrated
Raising The Roof, "Coming Soon": Experiential and Innovative Media, Pro Bono
TD, "The Official Partner of Big Dreams": Advertising
Zulu Alpha Kilo: 10
Gold: 5
Cineplex, "Lily & The Snowman": Advertising, Community Engagement, Digital
Interac, "Be In The Black": Integrated
Interac, "Be In The Black: Merry January": Advertising
Silver: 3
Cineplex, "Lily & The Snowman": Integrated
Interac, "Be In The Black: Pets with Credit": Digital
Participaction, "Participation": Pro Bono
Bronze: 2
Harley-Davidson, "Harley-Davidson Social": Community Engagement
Interac, "Be In The Black: Instant Gratification": Promotion/Shopper Marketing
BBDO: 10
Gold: 1
Wrigley Canada (Skittles), "Skittles Holiday Pawn Shop": Experiential and Innovative Media
Silver: 3
Mercedes-Benz Canada, "Mercedes AMG GT Launch": Community Engagement
Wrigley Canada (Skittles), "Skittles Holiday Pawn Shop": Community Engagement, Integrated
Bronze: 6
PepsiCo Foods (Doritos Ketchup), "Doritos Ketchup Roses": Community Engagement (with Citizen Relations), Experiential and Innovative Media, Integrated
Visa Canada, "Visa Checkout Movember": Community Engagement
Wrigley Canada (Skittles), "Skittles Holiday Pawn Shop": Advertising, Digital
FCB Toronto: 9
Gold: 3
BMO, "Ball-Star": Digital
Mondelez International (Ritz), "Ritz Cracker Cutter": Digital, Integrated
Silver: 5
BMO, "Ball-Star": Advertising, Community Engagement
BMO, "NBATM": Experiential and Innovative Media
Mondelez International (Ritz), "Ritz Cracker Cutter": Advertising, Community Engagement
Bronze: 1
BMO, "Ball-Star": Integrated
J. Walter Thompson Canada: 9
Gold: 3
Tim Hortons, "Aisle Store": Promotion/Shopper Marketing
Tim Hortons, "Sid and Nate": Promotion/Shopper Marketing
Walmart Canada, "Pooch Truck": Promotion/Shopper Marketing
Silver: 4
Air Canada, "#CanadaCarols": Community Engagement
Tim Hortons, "Aisle Store": Experiential and Innovative Media
Mazda Canada, "Unlimited": Advertising
Walmart Canada, "Pooch Truck": Experiential and Innovative Media
Bronze: 2
Mazda Canada, "Unlimited": Digital
Walmart Canada, "Pooch Truck": Community Engagement
Tribal Worldwide Toronto: 7
Silver: 2
Adidas Canada, "Run More 10K": Promotion/Shopper Marketing (with DDB PR)
Johnson & Johnson Canada (Reactine), "#AllergiesBeLike": Direct Engagement
Bronze: 5
Adidas Canada, "#RunMore": Integrated (with DDB PR)
Adidas Canada, "Run More 10K": Advertising, Direct Engagement (2) (all with DDB PR)
Volkswagen Canada, "Beetle Road Stories": Advertising (with DDB Canada)
Ogilvy & Mather/OgilvyOne: 6
Gold: 2
Kimberly-Clark (Huggies), "No Baby Unhugged": Advertising, Experiential and Innovative Media
Silver: 2
Kimberly-Clark (Huggies), "No Baby Unhugged": Integrated
Tim Hortons, "EHmoji": Integrated
Bronze: 2
Moneris, "Be Payment Ready: Power of Radio": Advertising
Tim Hortons, "EHmoji": Digital
OneMethod: 6
Gold: 2
OneMeth Creative Goods, "Streetwear View": Community Engagement, Promotion/Shopper Marketing
Silver: 3
OneMeth Creative Goods, "Streetwear View": Advertising, Digital, Integrated
Bronze: 1
OneMeth Creative Goods, "Streetwear View": Experiential and Innovative Media
Grey Canada: 6
Gold: 1
Ovarian Cancer Canada, "Ladyballs": Advertising
Silver: 2
Ovarian Cancer Canada, "Ladyballs": Community Engagement, Integrated
Bronze: 3
Salvation Army, "Time to End Poverty in Canada": Advertising, Community Engagement, Direct Engagement
McCann Canada: 5
Gold: 2
Chevrolet Canada, "Chevrolet Spark Launch": Advertising, Digital
Silver: 1
Chevrolet Canada, "Chevrolet Spark Launch": Experiential and Innovative Media
Bronze: 2
Chevrolet Canada, "Chevrolet Spark Launch": Integrated
MasterCard Canada, "MasterCard Priceless Cities DM": Canada Post Incite Award
DDB PR: 5
Silver: 1
Adidas Canada, "Run More 10K": Promotion/Shopper Marketing (with Tribal Worldwide Canada)
Bronze: 4
Adidas Canada, "#RunMore": Integrated (with Tribal Worldwide Canada)
Adidas Canada, "Run More 10K": Advertising, Direct Engagement (2) (all with Tribal Worldwide Canada)
Diamond Integrated Marketing: 4
Gold: 2
TD, "#GreenWhereYouLive": Community Engagement
TD, "#TDThanksYou": Experiential and Innovative Media
Bronze: 2
TD, "#GreenWhereYouLive": Experiential and Innovative Media
TD, "#TDThanksYou": Digital
Bensimon Byrne: 4
Gold: 1
Liberal Party of Canada, "Justin Trudeau 2015 Election Campaign": Community Engagement
Silver: 1
Liberal Party of Canada, "Justin Trudeau 2015 Election Campaign": Advertising
Bronze: 2
Liberal Party of Canada, "Justin Trudeau 2015 Election Campaign": Digital, Integrated
Lg2: 4
Gold: 1
Pennington's, "Yoga": Direct Engagement
Silver: 1
Agropur (Natrel), "The Natrel Milk Bar by Java U": Community Engagement
Bronze: 2
Pennington's, "Yoga": Community Engagement, Digital
Veritas: 3
Best of the Best
General Mills Canada (Honey Nut Cheerios), "Bring Back the Bees" (with Cossette)
Gold: 2
General Mills Canada (Honey Nut Cheerios), "Bring Back the Bees": Integrated (with Cossette), Community Engagement
Target: 3
Gold: 1
Newfoundland and Labrador Tourism, "Crayons": Integrated
Bronze: 2
Newfoundland and Labrador Tourism, "Crayons": Advertising
Newfoundland and Labrador Tourism, "Paint the Town Contest": Experiential and Innovative Media
Bimm: 3
Silver: 3
Canadian Safe School Network, "Bully Ads": Digital, Direct Engagement, Experiential and Innovative Media (all with Touche)
Touche!: 3
Silver: 3
Canadian Safe School Network, "Bully Ads": Digital, Direct Engagement, Experiential and Innovative Media (all with Bimm)
DDB Canada: 3
Bronze: 3
GO Transit, "#EtiquetteFail": Community Engagement, Digital
Volkswagen Canada, "Beetle Road Stories": Advertising (with Tribal Worldwide Toronto)
Anomaly: 2
Gold: 1
Spotify Canada, "Music For Your World": Direct Engagement
Silver: 1
Spotify Canada, "Music For Your World": Advertising
The Hive: 2
Gold: 1
Coca-Cola Canada, "Play A Coke": Digital
Silver: 1
Coca-Cola Canada, "Play A Coke": Promotion/Shopper Marketing
Grip: 2
Silver: 1
Expedia.ca, "Join the Jays On The Road": Digital
Bronze: 1
Expedia.ca, "Join the Jays On The Road": Community Engagement
Fuse: 1
Gold: 1
TO2015  Pan Am/Parapan Am Games, "Online Ticket Sales": MOBILE Marketing Award
Rogers Custom Media Content: 1
Gold: 1
Canadian Tire, "The WOW Guide": Canada Post Incite Award
Conversion Marketing: 1
Silver: 1
LCBO, "myLCBO": Direct Engagement
DentsuBos/360i Canada: 1
Silver: 1
Lexus Canada, "Lexus LinkedIn": Digital
GWP Brand Engineering: 1
Silver: 1
Borrowell, "Borrowell Makes Lending Fast, Fair and Friendly": MOBILE Marketing Award
Rethink: 1
Silver: 1
Molson Coors (Molson Canadian), "Hockey Heaven": Advertising
Citizen Relations: 1
Bronze: 1
PepsiCo Foods (Doritos Ketchup), "Doritos Ketchup Roses": Community Engagement (with BBDO)
Air Miles (in-house): 1
Bronze: 1
Live Nation, "Air Miles Stage Pass": Promotion/Shopper Marketing
Intercept Group: 1
Bronze: 1
Microsoft Canada, "The Cloud Society": Direct Engagement
SDI: 1
Bronze: 1
Ikea Canada, "Ikea Pop-Up Experience": Promotion/Shopper Marketing
Taxi: 1
Bronze: 1
Leon's, "Moving Day": Experiential and Innovative Media
TrackDDB: 1
Silver: 1
Scotiabank, "Momentum Savings Account Acquisition DM and Email": Canada Post Incite Award (with DDB Canada)
Bronze: 1
Scotiabank, "Momentum Savings Account Acquisition DM and Email": Direct Engagement
Traffik: 1
Bronze: 1
Walmart Canada, "Toy Testers": Experiential and Innovative Media
Union: 1
Bronze: 1
Jamieson Vitamins, "One Second Vitamins": Advertising
Wunderman: 1
Bronze: 1

XBox Canada, "Gamerscore Mega Deal": Promotion/Shopper Marketing