MSLGroup acquires North Strategic
The PR agency and its content arm Notch Video now fall under holding co Publicis Groupe.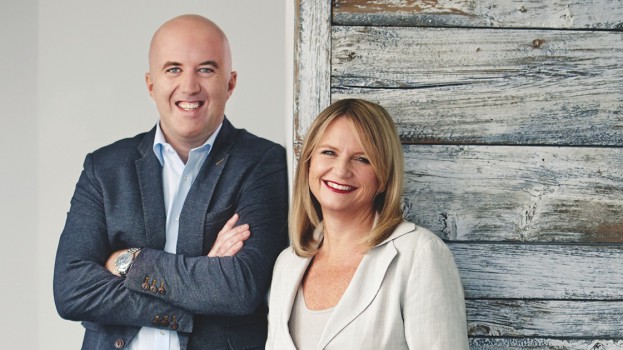 Pictured: Justin Creally and Mia Pearson.
North Strategic is the latest agency to join Publicis Groupe, having been acquired by MSLGroup in Canada.
The PR agency, as well as its video and content production hub Notch Video, will retain their names and continue to work separately from the existing operations of MSL Canada, though it will be part of Publicis Communications and have greater opportunities to work alongside the agencies in that division of the holding company. In addition to MSLGroup, those include Leo Burnett, Saatchi & Saatchi, Publicis Worldwide and Nurun.
"We needed to keep the brands apart because of how strong they both are," Guillaume Herbette, global CEO of MSLGroup, tells strategy. "MSL and North both have excellent reputations in this market and, more importantly, the quality of management in both companies is so strong. Fully merging the two would have just created some challenges we didn't want to have."
As part of the acquisition, Mia Pearson, co-founder of North and Notch, will now be CEO of Canada for MSLGroup, leading group companies within the market. Gayla Brock-Woodland will continue in her role as president of MSL Canada, though will now report to Pearson. Both Pearson and North Strategic and Notch co-founder Justin Creally will retain their leadership positions at North, with no other immediate changes expected for its senior leadership team.
"Sometimes when you go into being a CEO of a company in this way, you have to work really hard to change things," Pearson says. "But MSL has such a strong leadership team already, so both companies can continue doing what we're doing and work on getting the collaboration moving. Also, part of the reason we grew North so fast in five years is because we hired really good senior people right out of the gate. They're still with us, and that's also why we feel confident taking on additional responsibilities."
North Strategic was founded in 2011 by Pearson and Creally, who had previously been CEO/co-founder and president, respectively, of High Road Communications, which was sold to FleishmanHillard in 2000. In the past five years, North has grown to nearly 70 employees across Canada and developed a client base that includes Samsung, Canadian Tire, Tim Hortons, Cadillac Fairview, Twitter, Sport Chek and Ubisoft. It also won strategy's PR Agency of the Year in 2014 – an honour MSL Canada took the following year. In addition to its home office in Toronto, North also has locations in Montreal and Calgary, the latter of which will be a new market for MSLGroup.
Bringing in North "triples" MSLGroup's presence in Canada, according to a press release, and gives it a foothold in Calgary, both things Herbette says are particularly important as the agency looks to accelerate growth in North America. He adds that North's presence in the market, combined with the content production strength that comes with Notch Video, made it "the ideal candidate" to approach for acquisition.
In addition to having MSLGroup help continue to drive growth at North, a major benefit for the agency will be working closely with other Publicis agencies through the holding company's "Power of One" model. North has plenty of experience working with Publicis-owned agencies through shared clients, but Pearson says having even greater access to the network of agencies will give it access to more resources and capabilities, new client opportunities and the ability better serve clients that have been asking about support in markets outside of Canada.
"PR is in the driver seat more than ever, but as an independent, it can be more difficult to bring that fully integrated model and still have PR driving it and building the platform," Creally adds. "By working with others in Publicis, we are more able to present something more integrated and lead it. And for clients that are Canadian startups and Canadian brands that are ready to have help in the U.S., now we can provide that."
Herbette, who was named global CEO of MSLGroup last August, says North America is going to be a major area of focus for the agency in the near future. Over the last year, it has appointed dozens of new senior leaders in its offices in multiple cities across the U.S. following several executive departures in 2015, and Herbette says it will now be looking for potential areas of investment to jump start growth there, as it has done in Canada by acquiring North.