Cineplex elevates the magic of film
The follow-up to "Lily & The Snowman" finds another heartwarming way to get Canadians to prioritize the things they love.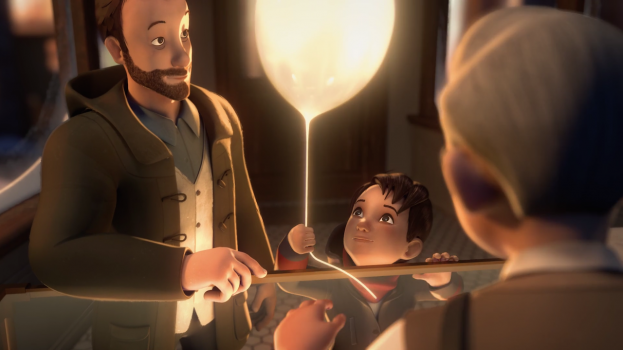 By Chris Powell
In a small recording booth at Vapor RMW in Toronto's east end, singer Emily Patrick is delivering take after take of the Fleetwood Mac song "Everywhere," honing its delivery.
Outside the recording booth, a roomful of executives from Cineplex and its creative agency Zulu Alpha Kilo look on, picking occasionally at a broad selection of cinema snacks laid out on a table in front of them.
Patrick's vocals are slower and more mournful than those of the original singer Christine McVie, and John McVie's signature loping bass-line has been replaced with piano and strings, but it is unmistakably the 1987 hit song.
Between takes, Patrick sips from a plastic water bottle and nods her assent as a producer provides feedback and instruction. "A little too throwaway," comes one piece of advice immediately after the playback, followed by a more encouraging "You're really owning it now" and, after a particularly strong take, "Goosebumps baby."
The song is the emotional heart of Cineplex's new video spot, "A Balloon For Ben." The two-minute piece — the follow-up to last year's hugely successful "Lily & the Snowman" — will run in Cineplex's 165 theatres across the country as part of the theatre chain's one-year-old "See the Big Picture" brand platform (Star Académie winner Stephanie Lapointe is performing a French version of the song).
"A Balloon For Ben" takes place in a world where balloons house the magic of film. The young boy and his father purchase a balloon, but the demands of the man's job prevent them watching the film together. After seeing a collection of deflated balloons that his son has stored in a box under his bed, the man drags home a surprise for his son.
"With 'Lily…' the story was great and the music complemented it, whereas with this one the story was great and the music makes it," said Sarah Van Lange, director of communications for Cineplex in Toronto.
"Lily & the Snowman" was a monster hit for Cineplex after debuting last December. The touching spot that chronicled a young girl growing apart from her childhood friend, only to rediscover their special bond later in life, has garnered more than 60 million views, as well as accolades at both national and international awards shows including the Marketing Awards, Cannes Lions and One Show.
More importantly, tracking conducted by Millward Brown for Cineplex found "dramatic" increases in its brand affinity and saliency scores. "We were definitely more top of mind," said Van Lange. "Even Millward Brown said they don't usually see jumps like that with one campaign."
Roy Gruia, group account director for Zulu, acknowledges that replicating the "out-of-the-park home run" success of "Lily & the Snowman" while delivering the "See the Big Picture" message in a fresh way was the agency's biggest challenge with "A Balloon For Ben."
"We all felt there was something special about to happen when it launched, but I don't think we could have imagined [it's massive popularity]," said Gruia.
Cineplex executives are probably more aware than most of the difficulty in pulling off a successful sequel. For every Aliens and The Godfather Part II, there's a box office bomb like Exorcist II: The Heretic or The Fly II.
"A Balloon For Ben" doesn't stray too far from "Lily & the Snowman's" winning formula, however, right down to its animation style (created by New York's Hornet Animation, whose other credits include work for brands such as McDonald's and Samsung) and the reworking of a popular song. ("Lily & the Snowman" featured a remake of the 1978 Genesis song "Follow You, Follow Me" that ultimately became a chart hit and garnered regular plays on Canadian radio stations like Toronto's CHFI.)
Cineplex also plans to make Patrick's version of "Everywhere" available on Spotify, iTunes and Google Play Music later this month, with all proceeds benefiting its national charity partner, WE.
"We wanted to keep talking about the fact that Canadians don't prioritize pleasure in their life," said Van Lange. "That's what 'See the Big Picture' is all about, so we wanted to create another execution to remind Canadians of what's important to them – spending time with friends and family. It's not really a sequel to 'Lily' but a whole new version of that 'See the Big Picture' message."
From Marketing