Confirming speculation, Blammo and Extreme merge
Dubbed Arrivals + Departures, the new agency is aiming for nothing less than becoming one of Canada's top indies.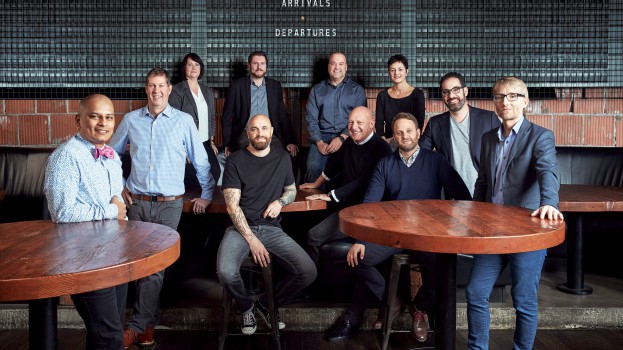 By Chris Powell

Two of Canada's leading independent shops, the Halifax-born Extreme Group and Toronto's Blammo Worldwide, have come together to form a new agency called Arrivals + Departures.

The announcement formalizes a process that began a little more than a year ago and confirms a persistent industry rumour.

Mike Bevacqua, Extreme's managing partner in Toronto, is the newly appointed president of Arrivals + Departures. He says the two agencies share a common entrepreneurial spirit and a passion for "pushing boundaries" with their creative.

Extreme's Halifax office will continue to be led post-merger by Shawn King, partner and chief creative officer, and Martin Delaney, partner and VP of planning. The two have been with Extreme for more than a decade.

Bevacqua says the senior leaders of both agencies have had a longstanding professional relationship, which ultimately led Extreme partner and chief financial officer Daniel Tolensky to initiate merger discussions in 2015.

"It was the right time to sit down and start talking about what the future could look like by joining together," says Bevacqua, who is also one of five partners in Arrivals + Departures.

Alan Gee, one of the founders of Blammo Worldwide (formerly known as Gee, Jeffery & Partners, or GJP), joins Arrivals + Departures as chief creative officer. Gee said that bringing together two pedigreed agencies makes the new entity "more of a force" in the Canadian market.

Gee, an industry veteran, downplayed suggestions that the merger paves the way for his exit from the industry, using the analogy of an actor who transitions from a leading man to character roles as his career progresses. "I'll take whatever role I can get my teeth into," he says. "This is just another dimension of what I've always done."

Arrivals + Departures' Toronto leadership team is rounded out by creative director Phil Sylver, director of planning Dawn Whiteman, director of production Claire McRae and Tolesnky.

The agency also announced two new senior hires including Ian Brooks as director of client service (a role he previously held with John St.) and Sathish Bala as VP of digital and technology.

Overall, the agency now employs approximately 50 people and has already notched new business wins including Ivanhoé Cambridge (which operates the Vaughan Mills, CrossIron Mills and Tsawwassen Mills shopping centres in Ontario) and personal loan provider Goeasy.

The merger also expands Blammo's purview with ConAgra brands beyond its Orville Redenbacher's popcorn assignment to include VH Sauces, Act II, Healthy Choice and Marie Callender's.

It also provides the combined agency with additional resources in key disciplines such as design, digital and experiential, Gee says. "We've beefed up all the things you need to become a modern agency. It gives us an opportunity to go after larger, more substantial clients."

Bevacqua, who was one of Extreme Group's first hires outside Atlantic Canada when he was tasked with opening a Toronto office in 2008, describes putting the two companies together as one of the "craziest, most immense" tasks he has ever been part of.

"I learned a ton about the business behind the business, how to manage culture and build the right kind of place where great talent is going to want to work," he says. "There are hundreds of agencies out there, and I've worked at a handful, and we're very proud of what we've built today. It's been a crazy ride, and a great one."

The name Arrivals + Departures is intended to evoke travel, specifically the way people experience everything with heightened senses when they visit somewhere new. For Arrivals + Departures, this will be manifested by looking at client's business challenges with fresh eyes, Bevacqua says.

"Falling into a sea of sameness with the work we produce for our clients is unacceptable. It's our responsibly to our clients to look at every challenge with fresh eyes and not fall into the trap of delivering the expected."

Gee says the approach is as much internal as it as an out-bound message. "[Agency staff] know we are going to approach every project in a different way. I want them to metaphorically land in the middle of Afghanistan on a project. It's not the warm, cozy perspective of living and working in Toronto or Halifax – they have to change the concept of creativity to make the familiar strange and the strange familiar. When you change the perspective, you come up with great insights."

Bevacqua says the objective is to transform the new shop into nothing less than one of the leading independents. "There aren't many great independent agencies out there today, and we strive to be one of them," he said.