Grey acquires Tank
The Montreal agency will retain its name as president Marc Lanouette (pictured, right) becomes CEO of the network in Canada.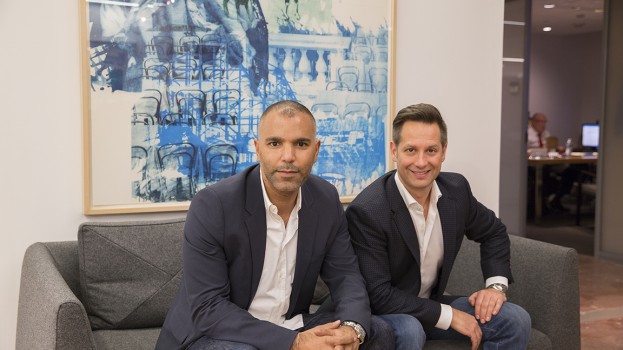 Pictured: Michael Houston, global president and CEO of Grey North America (left) with Tank president and new Grey Group Canada CEO Marc Lanouette (right).

Grey Group has acquired Montreal-based agency Tank.

Tank will retain its name and become a part of Grey's network of offices within Canada, which already includes outposts in Toronto and Vancouver. Grey also has a small presence of a few employees in Montreal. No conflicts have arisen and both agencies are expected to retain all of their clients.

As part of the acquisition, Marc Lanouette will remain president of Tank, but will also become CEO of Grey Group Canada. The CEO position at Grey Canada has been vacant since April when then-president and CEO Stephanie Nerlich left the agency to become CMO and managing director for MDC Partners within Canada. Darlene Remlinger, who was named president of Grey Toronto at the time, will retain her position.

A press release announcing the acquisition singled out Tank's healthcare expertise, working with clients including Pfizer, Eli Lilly and Bristol-Myers Squibb. Michael Houston, global president and CEO of Grey North America, saying it reinforced the agency's commitment to expanding its capabilities with the sector, as well as within the Quebec and Canadian markets in general.

However, Tank has expanded its work outside of the healthcare space over the last 10 years or so, with roughly half of its clients were from that sector at this point last year.

Founded in 1999 as Sky Communications, Tank began as B2B agency focused on the medical and pharma space. In 2007, Sky merged with traditional creative agency A&M to create Tank. Since then, it has provided French work for the Quebec market for brands like Telus, as well as Interac and Audi through a working relationship with Zulu Alpha Kilo. It has also picked up national accounts from Reitmans, Saputo, Corus, the Trans-Canada Trail and Canada Heritage.

Healthcare, however, has been cited as one the major drivers for growth at Tank, helping it break through the 100-employee mark early in 2016 and leading it to claim the honour of "fastest-growing agency in Quebec" with further hiring sprees through the rest of the year. The agency has also used its relationships with healthcare clients to expand to the U.S. with an office in New York. Owen Dougherty, chief communications officer for Grey Group says staff in that "small service office" would likely be relocated to the agency's head office in New York, and Houston said in the release that Grey intends to build Tank's footprint in the U.S., Europe and Asia beginning some time next year.

On the Grey Canada side, the agency named a pair of new ECDs in the summer after CCO Patrick Scissons took on the global CCO position at KBS. It has also brought on 11 new staff in Toronto over the last several months.