Taco Bell gets artistic
The QSR collaborated with four different artists on its first Canadian out-of-home campaign.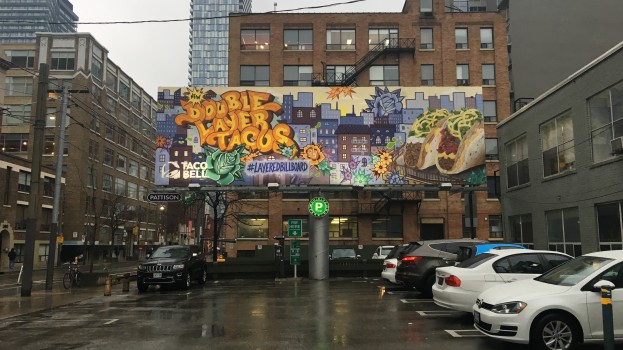 With the temperatures dropping and the skies looking rather grey, Taco Bell Canada is layering-up for a colourful entrance into an unfamiliar territory: out-of-home.
The restaurant chain has unveiled a new billboard, which was painted by four different Canadian artists in different phases, which each layering their work on top of the other. The result is a graffiti-style piece featuring cartoon-like designs, floral work and abstract art.
The layered concept is designed to promote the chain's new Double Layered Taco, which hit stores Jan. 9.
Veronica Castillo, head of marketing and R&D for Taco Bell Canada, said the billboard is a major departure for Taco Bell Canada, as this is its first out-of-home media spend. "We normally put a lot more toward digital, social and TV," she said, adding that most of its media spend goes to digital and social.
The reason, she said, is because those spots tend to work more for Taco Bell's target demographic of millennials, particularly in the 18 to 24 range. "We work with media that gives us more opportunities to interact with fans," she said.
However, the new billboard is not necessarily a sign that Taco Bell's about to dive full-on into out-of-home. She said the main pillar of the campaign is a digital video, which was created following the unveiling of the billboard the morning of Jan. 17, gathering the crowd's reaction to the collaborative art. It will also feature input from the artists and behind-the-scenes video of them constructing the billboard and talking about their inspiration. Taco Bell already posted a preview video featuring artist Emily May Rose's artwork on Jan. 16.
Once completed, the video will be distributed across Taco Bell Canada's Facebook and Instagram streams with paid boosting.
Taco Bell worked with MediaCom on the media buy and GRIP Limited on creative. The art work was executed by illustrator Rose, painter Rudger Bosiljavec, designer Troy Pynn and tattoo artist Brandon Ign.
Castillo said the chain chose the Adelaide St. West and Spadina St. location not only because of its heavy car and foot traffic, but also because the billboard was a bit closer to the ground than a billboard near an arterial road like Lakeshore Blvd.
"We wanted people to be able to really stop and look and appreciate the art," she said.
She added that despite not previously investing in OOH, Taco Bell was looking to make a departure from its typical practices to provide some "surprise" for fans, and that the "layered" theme gave them an opportunity for a more visual, artistic piece.
Castillo said that Taco Bell's presence in Canada has grown significantly over the past five years in terms of sales. While she wouldn't share exact figures, she said the percentage of growth has been in the double digits for the past five years.
This is the second campaign in recent months for Taco Bell Canada that has used an experiential activation to create a digital video. In October, Taco Bell paired with Airbnb to host a branded sleepover in a Chatham-Kent location, and then created two videos from the experience (one hour-long live-stream of the guest's stay, and one edited promotional video). The two videos, which were boosted on the brand's Facebook page, received 32,000 and 17,000 views, respectively.