Activia starts the year 'in sync'
The Danone brand simplifies its in-store messaging and builds on its holistic well-being approach.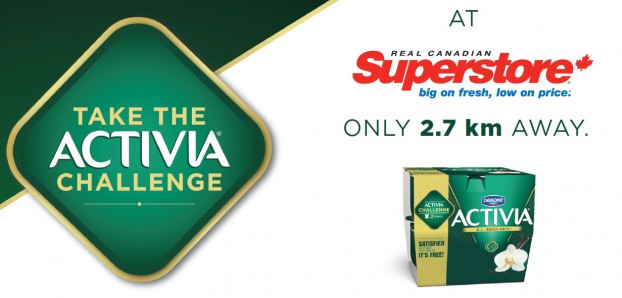 Danone Canada is aiming to start the year on the right foot – and help its consumer target do the same – with a new Activia Challenge campaign.

The new year campaign integrates the brand's "Live In Sync" approach, introduced last year and centred on the idea of having body and mind aligned. Along with encouraging its female target to take the challenge (by eating two of the brand's probiotic yogurts per day and check in online to win prizes), the idea this year is to also have them take two minutes per day to focus on their own well being.

The initial "Live In Sync" campaign debuted late last year, using an influencer-led strategy and insights around living well to go after a broader demographic (including skewing younger toward women 29 to 39).

Geneviève Bolduc, marketing director at Danone, says that approach has been largely successful, and Activia is now continuing that strategy by incorporating more digital into the new Activia Challenge media plan.

Its online strategy includes focusing on a holistic approach to health and well-being in its social media and online content strategy – think self care-focused images on Instagram related to yoga or taking time to relax or blog posts with organizational tips.

To promote the challenge, the brand has partnered with TV host Dina Pugliese in English Canada and Olympic short-track speed skater Marianne St-Gelais in Quebec as the faces for the campaign.

On TV and online, the two influencers will appear in 15- and 30-second ads, and in Montreal, Danone is also using transit advertising featuring St-Gelais to draw consumer attention in the city's busiest metro stations.

On the shopper side, the brand is using OOH and in-store materials to capture consumer attention near the tail end of their path-to-purchase. At Loblaw Companies banners across English Canada and IGA in Quebec, the brand is using POS materials, in-store radio, FSIs, couponing and flyers to support the campaign.

Based on insights around shoppers being bombarded with information and having just seconds to make their decisions, Activia has taken a "less is more" approach, with this year's in-store materials including more straightforward messaging with under 10 words, Bolduc says. Last year, the brand also revamped its packaging to have a cleaner, simpler look.

Activia's strategy and creative in Canada is led by Taxi and Mirum (with worldwide led out of Y&R Group). The brand also works with Mirum on digital, Carl on social media, Carat on media and Publicis on POS advertising, with its internal team and National Public Relations handling PR support.