Arbor Memorial tackles a taboo topic
How the funeral services brand is using online content to position itself as a thought leader in the industry.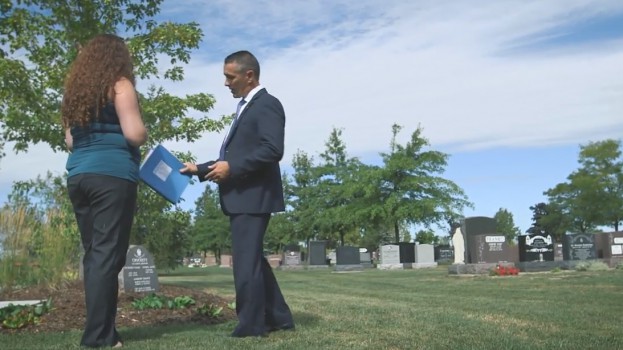 Talking about death is awkward. But as consumer desire for customization hits even the funeral planning industry, Arbor Memorial is using its content strategies to help Canadians break taboos and get talking.

The funeral services company is the parent company to various providers from coast to coast. But Arbor's brand challenge is that many of those providers still operate under the original names they've had for decades in their respective communities, says Dustin Wright, its director of marketing communications.

While it does TV advertising in local markets driving to specific locations, the Arbor brand is trying to establish itself as a thought leader for the funeral planning process (both among everyday Canadians searching online for providers and with the media) with its online content strategy.

With the Baby Boomer population ageing, how Canadians are treating end-of-life has shifted. More now want customized services that are more celebrations of life, rather that sombre occasions, Wright says.

That's led to Arbor focusing much of its content strategy on pre-planning.

Most recently, it teamed up with "Little Miss Kate" blogger Katie Allen to simulate planning her husband's funeral, without any knowledge of what he wants. After she does her own planning, the pair sat down to see if their ideas align.

The experience was captured on video, with Allen also writing about her experience. Arbor worked with Agnostic on the video and Environics Communications on PR support. It handled media internally, supporting the video through its social and owned channels.

The brand was acting on an insight gleaned through a survey it commissioned in 2015, which found that about 70% of Canadians only have a limited idea of what their partners actually want for their funeral service and about 60% haven't shared their own wishes with their loved ones.

Allen is younger than Arbor's core target of 55- to 65-year-old Canadians, but her audience is the right one, Wright says, referring to what's often called the "sandwich generation," or those who still have kids at home but are also caring for ageing parents.

Among Arbor's other online content are short videos speaking to topics ranging from moving on after a partner has passed to what to wear for a funeral (turns out a hockey jersey can actually be okay in some instances).

Arbor is not alone in its quest to break taboos around death. Mount Pleasant Group has been targeting a younger demographic with its recent campaigns, hoping to get millennials thinking about their end-of-life in a more offbeat way.

Arbor's competition is among funeral homes, cemeteries and crematoriums, about 80% to 90% of which are independent, Wright says. When it comes to digital brands like BasicFunerals.ca, he says those don't serve the same target that Arbor is after, meaning Canadians more interested in customized services.