How to gain (or lose) influence
Ipsos' Steve Levy shows what makes or breaks an influential brand in Canada.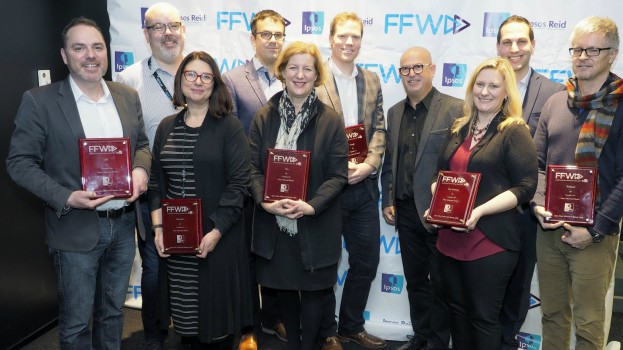 Pictured, back row: Mike Moser, senior director, marketing strategy, finance & operations CBC; Scott Knox, president and CEO, ICA Canada; Jake Norman, head of agency development Canada, Facebook; Marshall Self, director, agency Canada, Google; Steve Levy, COO, Ipsos Canada; Tamir Bar-Haim, country manager, advertising, Amazon; Johan Landmark, VP, customer insights, Walmart Canada. Front row: Katia Houbiguian, CMO, Microsoft Canada; Brenda Woods, head of marketing, Visa Canada; Julie Unsworth, VP, brand marketing, Tim Hortons
Influence is "tough to get but easy to lose," according to Steve Levy. Ipsos' COO steers the research firm's annual Most Influential Brands survey, which charts companies' abilities to affect the lives of Canadians.
Presenting this year's survey findings to attendees at FFWD Advertising and Marketing Week, Levy dove into Ipsos' data to show where companies were excelling. While the top-ranked brands remain a stable lot, Levy highlighted a few details and trends behind the decisions that made Canadians choose one brand as influential over another.
The study's methodology asks participants whether or not a given brand exhibits certain traits. These descriptors range from "sexy" to "forever changed the consumer landscape."
"Relevant and well-known brands are not always influential," Levy told FFWD attendees. Using the example of Trivago, a global hotel search brand that has has spent significantly to make its spokesperson well-recognized, Levy acknowledged that the company does not make this year's top 50 most influential brands.
While a handful of similarly tech-focused companies such as PayPal and Pinterest do appear in the top 50, newer disruptors such as Tinder and Uber do not, even though there is an entire research category called "leading edge" that asks survey participants to identify brands that are "trendsetters" or "innovative."
"Despite spending $25 million on advertising in this country, Trivago is not influential," according to the study, Levy said. "If you were to assume that simply being in the social media world, or having a technology brand that this would guarantee you influence, you'd be wrong."
Getting a spot on Ipsos' list seemingly takes time, as even market leaders such as Samsung took years to build their rankings. When Ipsos first conducted its Most Influential Brands survey in 2011, Samsung ranked 47th. It took until 2016 for their influence rank to crack the top 10, mirroring its global market share. But as Levy said, influence is easy to lose.
"Samsung is an influential brand. They had a tough year," he said, referencing its recall of Galaxy Note 7 smartphones and some of its washing machines. "Many of the metrics we look at moved down," noting responses that said the brand was less "reliable" and "trustworthy." After taking six years to climb 37 spots, this year Samsung fell to 16th place.
So what does earn influence according to Ipsos' study?
Tim Hortons indexed at nearly twice the level of influence as the average study score this year. It's been a consistently high-ranking brand on the study, and has strong showings among all demographic breakdowns (top 10 among Gen Z and Millennials, never falling lower than #12 among Gen X and Boomers).
While it has a $70 million ad budget so Canadians "can't help but see this brand," Levy says much of its influence comes down to its huge retail presence, both in terms of restaurants and a growing grocery offering. Seventy per cent of Canadians see it as an "established" brand, compared to the 40% study average. Another 70% say "they see it everywhere."
It's corporate citizenship also plays a role in its influence, with 60% of Canadians saying the company "inspires a sense of Canadian pride."
CBC, meanwhile, hadn't been in Ipsos' top 10 since 2012, but has consistently charted high with the Baby Boomer generation. In 2016, however, it earned the number 10 slot.
"They over-index on being good corporate citizens and on the trust dimension," Levy said during his address. "If we dig a little bit deeper… 44% of Canadians ascribe the attribute 'inspires a sense of Canadian pride' to that brand." The other brands in the ranking average only 10% on that measure.
What changed this year? "The hashtag #CheerTheWorld was a slogan that the CBC used for its coverage of the Rio Games. It was intended to reflect Canada's multinational makeup and the broad appeal of the Summer Games, which was incredibly successful this past year.
"But on Aug. 20, 2016, CBC broadcast and live-streamed commercial-free, the final concert by The Tragically Hip. That was very much a national celebration concert. It bound us together with an audience of almost 12 million Canadians. That's a big audience in this country."
The market agreed. Levy cited The Globe and Mail's Wade Rowland, who wrote "The CBC's decision to air the Tragically Hip's farewell concert Saturday was a stroke of public broadcasting genius. Better than almost any event one could imagine, it demonstrated the power of a national public broadcaster to bring a nation together to celebrate its shared values, to honour its prodigies, to connect."