Insights of the Week – Jager's up-market moves
The most essential industry intelligence from the the past seven days.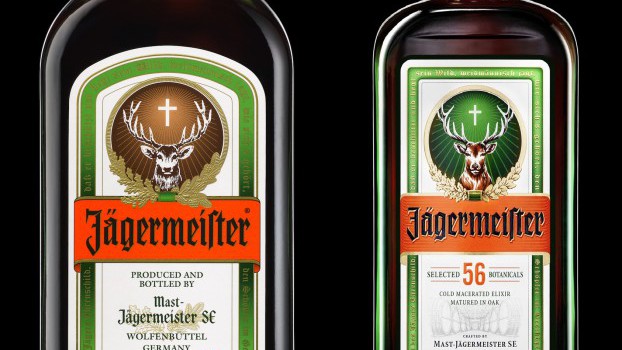 Jägermeister adds some substance behind the shot
If you don't know what's in a Jagerbomb, then you're likely not in the spirit brand's target demo: the young and predominantly male drinker who goes for "high energy" alcoholic bevvies. Assume what you will about young bar-goers, but apparently even those who shoot their drinks rather that sip them are starting to become more discriminating.
Jägermeister has redesigned its packaging to put more focus on its ingredients and heritage as males up to age 29 are "increasingly interested in the origins and makeup of their food and drink, a trend that's been picked up on by various QSRs, spirit brands and CPG companies," writes Harmeet Singh. "The change to the bottle's look wasn't dramatic enough to warrant a big investment in store, though the brand has updated its POS materials to look more premium and focus more on dark green and gold over the previously dominant orange and black." It's also invested in training 3,000 retail staffers on the story around the new bottle's label." Read more.
A water brand that goes with the flow
Flow, a water brand sold in tetra packs, is keeping its packaging flexible by design. The ultra-thin boxes are produced in such a way that it's easy to change their visual design often. So the brand is using its first six months of consumer data to tweak its look on the shelves. And it will continue to do so.
"We put it into Flow's core design and branding philosophy to do consumer insights and get feedback on our positioning on an ongoing basis," Nicholas Reichenbach, Flow's founder and CEO told strategy via email. "Because of this, our design is definitely iterative. It's evolving every six months, where we're making slight tweaks as we get to know our consumer better." Read more.
Millennials can be financially responsible too
There's a general sense that when it comes to saving money, millennials value things like trips, fancy dinners and experiences over, say, owning a car or home. A mobile banking survey conducted by Facebook, however, pointed to data trending in the other direction.
In a poll of 2,000 Canadians, "only 10% of millennial respondents said they were saving in order to be able to afford experiences. Higher on the list were things like generally 'saving for the future' (28%), paying off debt (26%) and owning a home (14%)," writes Josh Kolm.
Erin Elofson, director of financial services, retail and telecom at Facebook Canada, "points out that millennials seem to have a more general sense of financial responsibility, seeing saving as something they are supposed to be doing, rather than working towards particular savings goals or objectives. 'Being responsible' was the top reason millennials gave for their reason for saving." Read more.