WealthBar weaves in more connection
The fintech brand unveils a new look, hoping to promote its more human side.

Online wealth management company WealthBar is emphasizing its human side with a brand refresh centred on connection.
Led internally, the branding update includes a refreshed logo and positioning focused on the two-year-old robo-advisor's mission to make investing effortless but also human.
Like some other robo-advisors, WealthBar does tout its lower fees in comparison to traditional mutual funds. However, it also offers each customer a dedicated financial advisor – a human aspect that's key to its differentiation, says Chris Nicola, WealthBar's co-founder.
The new design, led internally, includes a logo made up of interconnected lines, now being weaved into the brand's visual identity across its website and social media to reinforce that idea of connection.
Its website also features short personal stories from customers who have benefited from its platform, such as a widower who was able to retire within three years and still keep his home. A new onboarding process for customers and mobile app are also set to launch with the new look, Nicola says.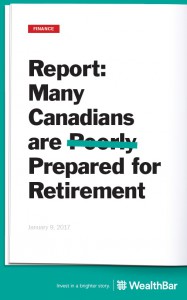 To date, WealthBar – which as of last month manages $100 million in assets – has focused on digital and social advertising, mainly through Google, Facebook, Twitter and Reddit. To launch its new look, the brand has partnered with Camp Pacific on a transit campaign in Vancouver, playing on the common, often foreboding personal finance headlines Canadians often see and demonstrating how WealthBar can help assuage fears.
WealthBar is also currently looking at delving into radio advertising and is currently testing internally-led creative. The brand works with 6S Marketing on its digital strategy and Breakthrough Communications on PR.
The move from WealthBar to refresh its brand comes as other financial advisors are promoting their messages of simplicity and ease of use. Toronto-based Wealthsimple recently announced its expansion into the U.S. and launched a new brand spot centred on making investing easy. Meanwhile, financial services brand Questrade also recently launched a campaign focused on its lower and less complicated fees.