CASSIES Gold: The Liberals' hurricane win
Bensimon Byrne tapped a trusted nonagenarian to shore up the seniors vote.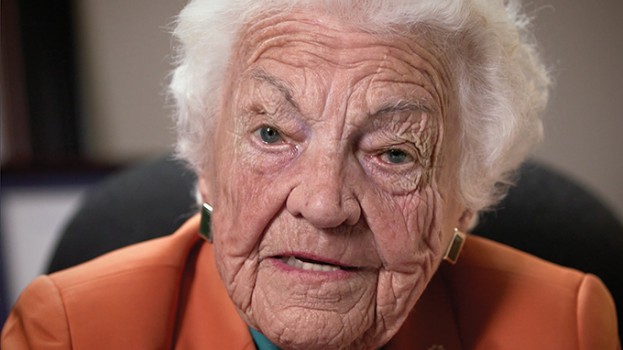 This article appears in the March/April 2017 issue of strategy.
Gold: Capitalizing on Curveballs  +  Silver: Limited Resources
SITUATION ANALYSIS | Former Conservative PM Stephen Harper had been misleading Canadians on the campaign trail, suggesting that Liberal Justin Trudeau would cancel pension income splitting for seniors – a popular tax-saving program that seniors counted on, giving Harper a solid hold on the critical seniors vote. While the claim wasn't true, Trudeau's denials were not getting through. Advertising needed to convince seniors that Trudeau wouldn't cancel the program.
INSIGHT & STRATEGY | Fear is a powerful tool, especially to the 25% of Canadian seniors already living in poverty. The possibility of more financial stress left pensioners confused and frightened, a similar dynamic to the phone scams seniors get. In an election that became about defining Canadian values, manipulating vulnerable seniors didn't meet the values that Canadians prioritized. The team respnded with a viral video containing humour (a big risk in political advertising) to refute the false claim.
EXECUTION | The Liberals worked with a trustworthy senior, former Mississauga mayor "Hurricane" Hazel McCallion, to expose the deception. McCallion was briefed on Thanksgiving Saturday – only nine days before the election – and shot on the following Tuesday, with "Hazel" airing nationally for the next day five days on TV and social, supported by a $500,000 budget.
The casting of McCallion was designed to use her reputation to rise above political rhetoric and be the last word on the issue. In short, she was seen as more believable than Stephen Harper, even by voters who didn't know her. "Hazel" would also more broadly demonstrate for all voters the manipulative tactics Stephen Harper was using, thus undermining his character.
RESULTS | In less than a week, Conservative vote intention by seniors dropped 11%, from 48% to 37%, while Liberal vote intention rose 8%, from 30% to 38%. After months of the Conservatives owning the support of seniors in the election, Trudeau's Liberals became the preferred party.
Given that seniors have more than double the propensity to vote than millennials, this swing was a key factor in the Liberal party's largest seat gain in Canadian history and in the doubling of its share of the popular vote, from 18.9% in 2011 to 39.5%.
CAUSE & EFFECT | "Hazel" gained over 50,000 unpaid social views in the first half hour and became a top trending topic on Facebook for almost three days. All views were organic. In total, the ad generated more than six million unpaid social media views. While there was clearly momentum building for Trudeau in the last weeks of the campaign, there had been little change in seniors' vote intention prior to the spot.
CREDITS
Client | Liberal Party of Canada
Principle advisor | Gerald Butts
National campaign director | Katie Telford
Director of advertising | Suzanne Cowan
Strategy and research | The Gandalf Group
Strategist | David Herle
Agency | Bensimon Byrne
President and strategist | Jack Bensimon
CCO and copywriter | David Rosenberg
Group account director | Jill Engelman
Project manager | Katelyn Porter
Agency broadcast producer | Meghan Cheesbrough
Media director | Thomas Shadoff
Media buyer | Alex Gillespie