Check it out: Tim Hortons features 'perfect pairs'
The QSR uses personal storytelling to lend a human touch to a specific meal occasion.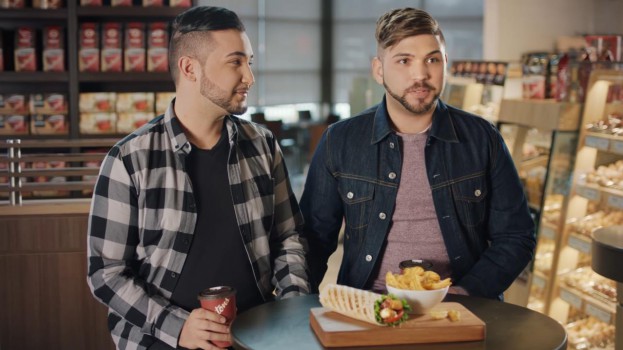 Tim Hortons is using the stories of couples to celebrate the relationships forged at the QSR – and the pairings on its menu – in a new campaign.
The new interview-style video features couples telling their stories about the ways Tim Hortons has had a hand in bringing each of them together. The couples – be they friends or romantic partners or siblings – also represent a large cross-section of Canadians, representing different ages, ethnic backgrounds and sexual orientations.
The multi-channel campaign out of J. Walter Thompson Canada is currently running on TV and in social channels. In addition to the main spot, there are a series of 15- and 30-second videos go deeper on each couple's story.
Ostensibly, the "pairs" in the ad are meant to link back to Tim Hortons' "Perfect Pairings" combination menu of sandwiches, soups and other meal items. But Tammy Sadinsky, head of marketing at Tim Hortons Canada, adds that the idea behind the "Perfect Pairings" campaign is to reflect the role the QSR plays in the lives of Canadians. That's not exactly new ground for the QSR from a brand standpoint, but this video does add that bit of humanity to a specific meal occasion (lunch) and product offering and doing it in an interview style aims  to lend some authenticity to the spot.