Consumers readying for a have-less future: survey
Havas' latest global Prosumer study shows Canada's slightly more optimistic about financial declines.
A new survey from global agency network Havas suggests consumers are readying for a have-less future.
The survey questions for "Prosumer Report: Money Money Money" ranged from the political to the personal to assess changing consumer attitudes towards money, capitalism and banking.
The survey was answered by just under 12,000 consumers in 37 countries, including Canada. As with other Prosumer Reports from Havas, respondents are not only divided by traditional demographic info, but by whether they are a mainstream consumer or a "prosumer," people who are early adopters and trend setters that influence the behaviours and decisions of others.

For example, 74% of prosumers and 66% of the general consumer set said they are worried about a global financial recession. Another 69% of prosumers and 67% of general consumers worry about running out of money as they age.
Amid fears of conflict between nations and different economic groups, the majority of those polled agreed with the statement "on the whole, children born today will have less financial security than their parents had."
Similarly, the majority of consumers across all measured age groups also agreed that "we need to get used to living in a world with less economic growth than in the previous century," and "I need to get used to living with less money than I had a few years ago."
Canada, however, trends slightly more optimistic than other nations. The report names it in a group of nine countries that exhibit slightly less concern over lost investments and future wealth than the global average.
Forty-one percent of Canadian respondents said they worry about losing their investments (versus 58% globally), and 38% believe their adult children will rely on them for financial support (versus 53%).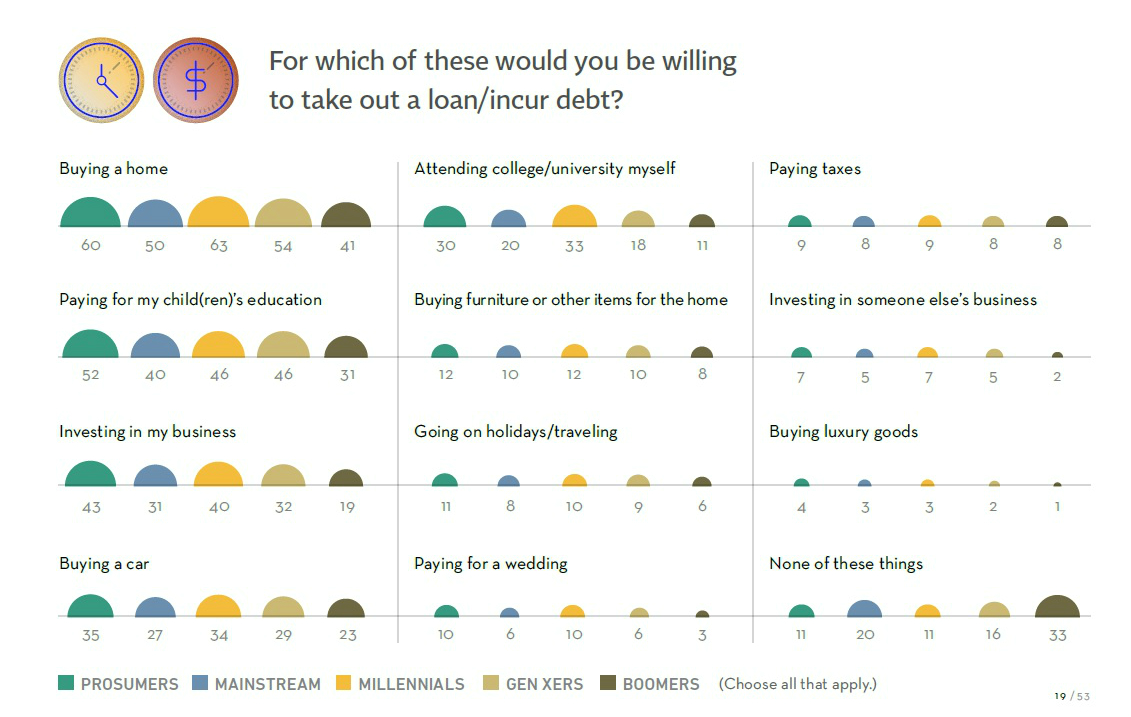 "Recent years have seen the romanticization of austerity, as many people have embraced simpler ways of living as an antidote to mindless consumption, artificiality, and waste," Havas says in its report. "This movement has taken all sorts of forms, from zero-waste retailers and minimal ingredient food products to tiny houses and a return to backyard chicken coops. Rather than an enforced 'doing without,' frugality has become an admired choice and ethical statement. Suddenly, the simplest, most natural products are the most coveted — and oftentimes among the most expensive. The notion of luxury has been turned on its head."

Havas also calls out several businesses it believes are well-positioned in this uncertain climate. It points to pay-what-you-can or variable pricing restaurants such as JBJ Soul Kitchen or EAT Café as contributing "to the quality of life among low earners."

"And, of course, offering a good value — or, better yet, something for nothing — is always going to find a welcoming audience," the report says. "Stock brokerage app Robinhood caters to millennials by letting its users buy and sell individual stocks for free. Chase's new travel-focused rewards card, the Sapphire Reserve, offers such great perks that its supply of cards and presentation boxes ran out just days after launch, based solely on word of mouth (there was no paid marketing)."