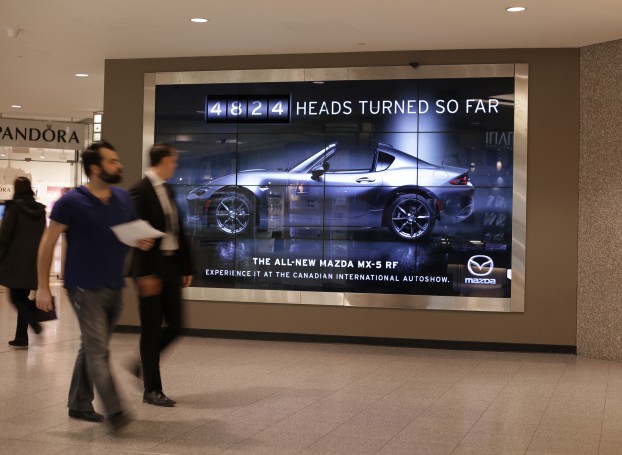 It's March, which means ad agencies across the country are well aware of the impending entry deadlines for both Cannes Lions and the Marketing Awards. With these dates looming, we spoke with industry experts who have experience in judging rooms – both in Canada and internationally – to find some of the campaigns that stand to do well on awards stages both here and abroad. We also polled strategy and Media in Canada staff to see what the year of reporting had brought to their attention.
Today, we look at the campaigns that used technology in a range of different platforms to not just attract attention, but add an extra punch to their message.
Judges' picks
Agency: J. Walter Thompson Canada
Brand: Mazda
Campaign: Head Turning Billboard
Mazda was set to debut its new MX-5 RF at the Canadian International Auto Show in February. The roadster was designed to be eye-catching, so to put that idea to the test, J. Walter Thompson Canada set up a digital billboard in a part of Toronto with heavy pedestrian foot traffic. The board was set up with facial tracking technology, so every time someone turned their head to watch the video loop of the car in action, a counter at the top of the screen kept track. That not only puts this campaign in the running for OOH categories, but creative tech categories as well.
"It's a smart, simple and insightful idea with a creative use of technology," says Nellie Kim, VP and CD at Lg2 Toronto. "This idea is based on a universal insight, so geography shouldn't make a difference on this one."
strategy picks for other tech-focused contenders
Agency: FCB/Six
Brand: Drug Free Kids
Campaign: The Call That Comes After
Using tech to enhance an already powerful cause message is the kind of thing award show juries eat up, and sending teens a personalized message just as they are reaching the climax of a PSA was an impressive way to do that. The amount of tech that went into making the experience seamless is impressive, and getting parents to willingly give up personal info in a way that had an immediate and desirable benefit to them might even be the kind of thing that wins Canada's first Creative Data Lion.
Agency: BIMM
Brand: WD-40
Campaign: Haunted Door App
The idea that WD-40 is so good at eliminating creeks that it needed to make an app that played a creepy creaking door sound so as not to ruin Halloween was a clever, brand-relevant idea that earned a fair amount of international attention. Whether that attention is enough to impress Cannes juries is anyone's guess, but it is the kind of clever, tech-focused work that local judges will likely be eager to celebrate.
Agency: John St.
Brand: Cashmere (Kruger Products)
Campaign: Now Streaming
The tech behind turning in-bathroom OOH displays into streaming music players is relatively simple compared to some of the other tech- and innovation-focused entries that will be getting the most international attention this year. But using that simple tech to answer a consumer need – people with "shy bladders" unable to go when the stalls next to them are occupied – that has a connection to your product can be a powerful combination.